Upgrade your entire bathroom for comfortable and more pleasant mornings in your Carson City, NV home.
If you're looking to remodel your bathroom in Carson City, NV, rest assured, you're in the right place! Our dedicated team specializes in transforming bathrooms into personal havens. We're here to listen to your needs, understand your style, and translate it into a design that suits your daily routines.
Whether it's updating fixtures, installing efficient lighting, or revamping the entire layout, we've got you covered. Get ready to step into a new level of comfort and luxury with our bathroom remodeling services.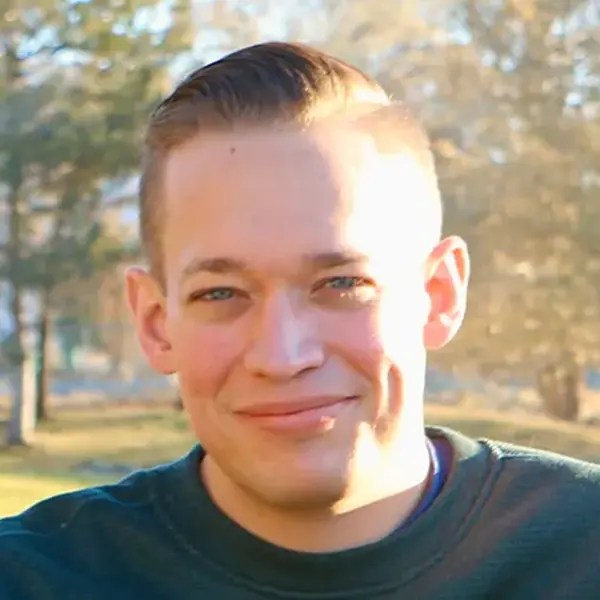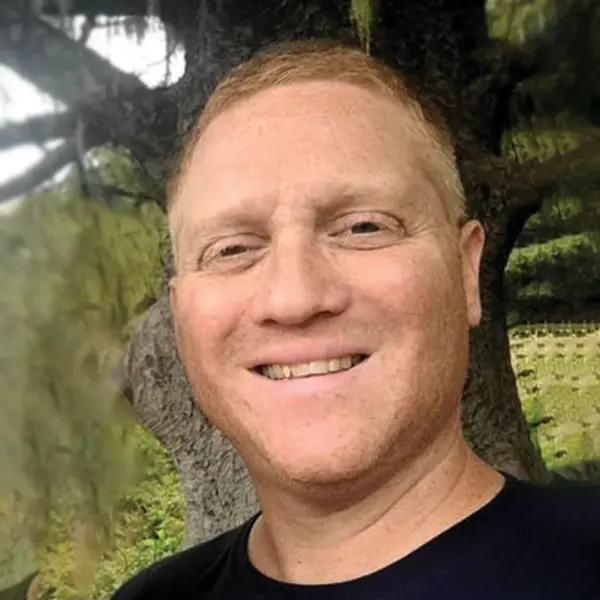 Travis Gunter & Jason Blazeff – Owners Of High Sierra Remodeling & Construction
Brought together by a desire to innovate and improve the construction industry, Travis and Jason created High Sierra Remodeling & Construction with a clear goal in mind: to make remodeling straightforward and easy for homeowners like you. Enjoy the complete design-build services that bring your home to modern standards!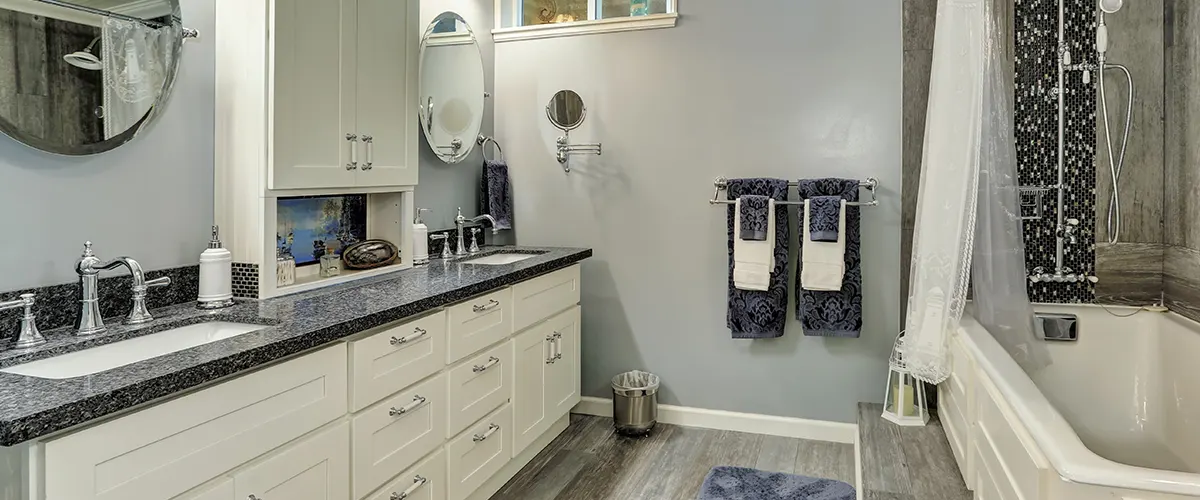 Turn Your Bathroom Into A Home Spa
We understand that remodeling a bathroom is not just about enhancing its appeal but also improving functionality. That's why we focus on understanding your specific needs and desires – to create a space that is not only aesthetically pleasing but also practical and efficient.
We can offer a complete bathroom remodel that offers:
How We Change Bathrooms Across NV
Here you'll find a collection of some of our finest work in Carson City, NV, showcasing the quality, craftsmanship, and attention to detail that we bring to every project.
Don't wait to start your bathroom transformation journey! Contact us on (775) 242-6405 and work with the pros in bathroom remodeling for a luxurious home spa you'll love.
What Makes High Sierra The Talk Of The Town
You're not alone in your quest for a luxurious bathroom transformation! Many of your peers in Carson City, NV have already entrusted their bathroom remodeling projects to us at High Sierra Remodeling & Construction, and they've loved the results!
High Sierra refinished our master shower in a very professional manner from start to finish. They suggested design ideas and recommended reliable local resources so we could select our materials first hand.
Their work ethic and craftsmanship are top notch. New shower and floor tiles were arranged before installation for best appearance. The end result is a beautiful and enjoyable new shower that increases the value of our home. We will contact High Sierra again for any remodeling work we decide to do.
High Sierra Remodeling & Construction, not only professional at what they do but also reliable and dependable. We had our house completely remodeled (new kitchen, floors, new bathrooms, lighting, etc.) The quality of work was excellent! 
Travis and Jay and their whole team were great to work with, and very professional. There were several trades involved in the overall construction and Travis & Jay made sure the work was coordinated so that there were no delays and kept the work flowing so that it was completed in our expected timeframe. Any homeowner choosing to work with them will be very pleased and extremely satisfied.
Average Home Remodeling Cost In Carson City, NV
Our average-sized master bathroom remodel begins at $30,000 and covers all tile and fixtures. While larger, high-end bathroom remodels can cost over $80,000, the outcomes are truly remarkable.
Depending on the features of your new bathroom, the return on investment (ROI) typically ranges from 50% to 55%, but can be even higher with professional assistance.
When estimating the cost of your bathroom remodeling project, several factors can cause an increase:
While certain aspects of bathroom remodeling can be expensive, there are several strategies you can employ to lower your project's cost:
| Type of Bathroom Remodel | Average Cost* |
| --- | --- |
| Half-Bath Remodel | $2,000 - $5,000 |
| Full Bath Remodel | $6,000 - $15,000 |
| Primary Bath Remodel | $10,000 - $30,000 |
| Wet Room Installation | $11,000 - $18,000 |
| Luxury Bath Remodel | $50,000+ |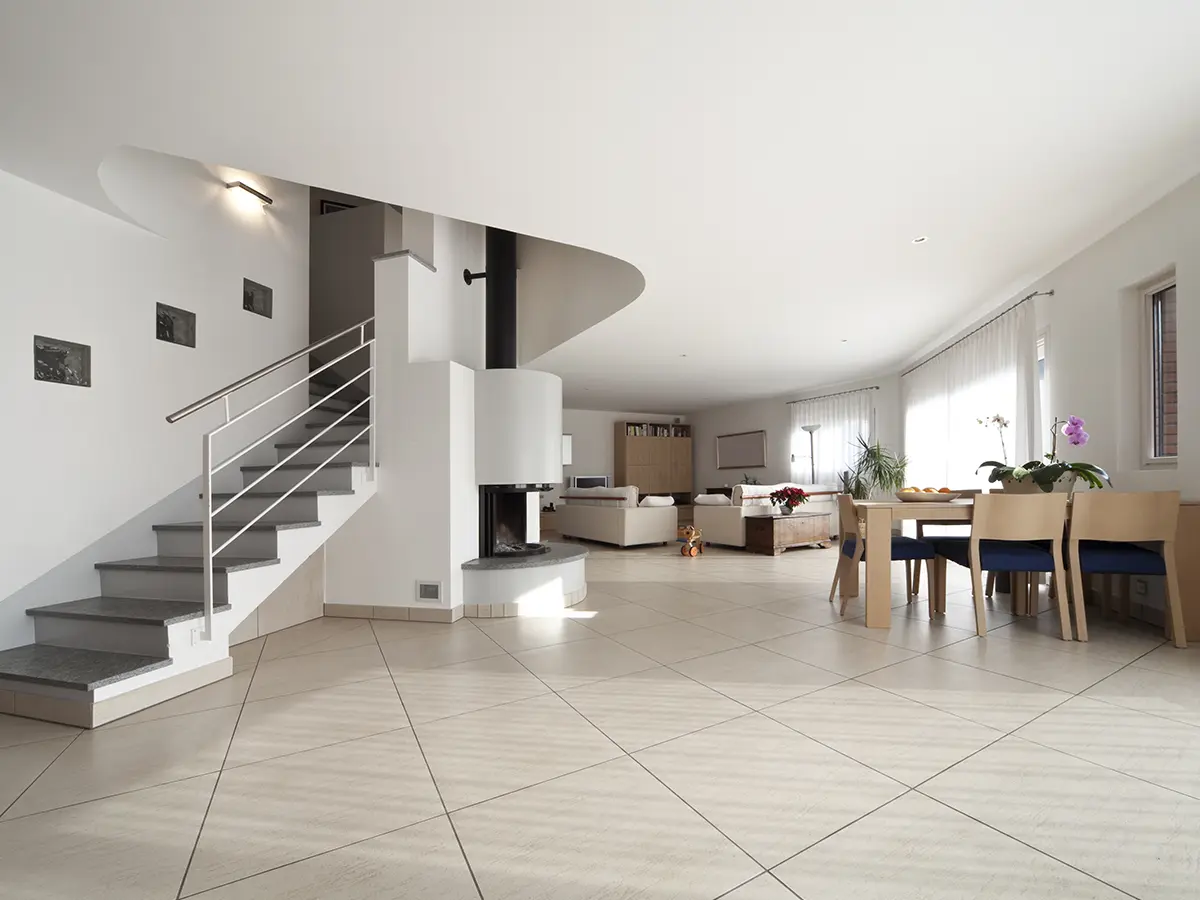 1500 sq. ft. tile flooring & stone stairs
This remodeling project included:
This remodeling project was quoted at $80k, where the most expensive item was the tile, at $9k.
*Bear in mind that the prices mentioned above are estimates and can vary based on the unique requirements of your bathroom remodeling project. The cost of materials, the complexity of the layout alterations, and the extent of customization can all influence the final quote.
At High Sierra Remodeling & Construction, we take pride in our comprehensive design-build services. This approach allows us to handle every aspect of your bathroom remodeling project, from the initial design conception to the final construction details.
Let Go Of Money And Time Constraints
We understand that two of your most pressing concerns revolve around managing your budget effectively and ensuring the timely completion of projects, all while minimizing the inconvenience of having a messy home for an extended period.
Investing in a bathroom remodel not only elevates the comfort and aesthetic appeal of your home but also significantly enhances its overall value. With professional help from our team at High Sierra Remodeling & Construction, you can expect an ROI ranging from 50% to 55% — or even higher.
We place a huge emphasis on meeting project deadlines. We recognize that home remodeling can disrupt your daily life, and we commit to minimizing this disruption by adhering strictly to the agreed-upon timeline. Our project management skills and our efficient, well-coordinated team ensure that your bathroom transformation is completed promptly.
Bathroom Remodeling, Made Simple
If a complete bathroom remodel in Carson City, NV, sounds overwhelming, we've implemented a 3-step process to make it as smooth as possible.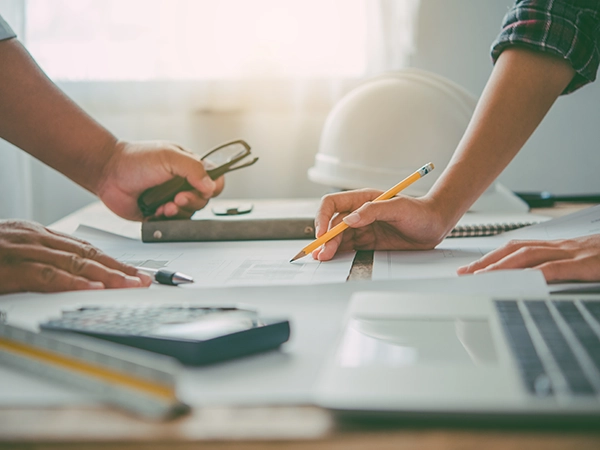 Contact us, share your vision, and let us design a bathroom that meets your taste and budget demands.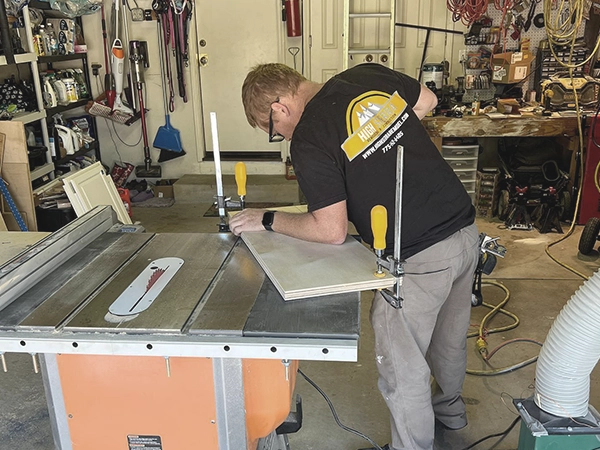 With all materials ready, our team works diligently to exceed your expectations while meeting the project deadline.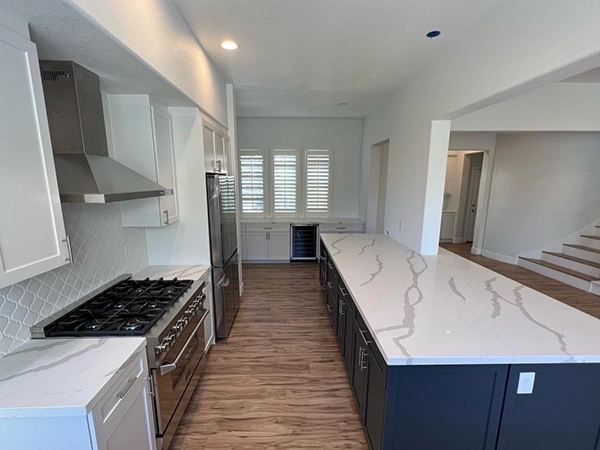 Streamline your mornings in a bathroom with new fixtures, heated floors, and all the design elements you love.
Bathroom Remodeling In Carson City, NV - FAQs
A bathroom remodel can encompass various tasks depending on the scope you decide on. But generally, it includes:
Designing or Replanning: This is the initial stage where you decide on the new layout, color scheme, and style for the bathroom. You might opt for a full redesign or just updating certain features.
Demolition: Existing fixtures, flooring, and sometimes walls are removed to make space for the new design. Plumbing and
Electrical Work: If the bathroom's layout is being changed, the plumbing and electrical lines may need to be rerouted. Additionally, new fixtures and appliances are installed.
Installation of New Features: This includes installing new tile, cabinetry, countertops, lighting fixtures, and other features as per the design plan.
Finishing touches: Painting, sealing, and cleaning are done to complete the remodel.
Remember, a bathroom remodel can be as simple or as complex as you want it to be. It could be as straightforward as repainting and changing out fixtures, or as comprehensive as altering the layout, installing a jacuzzi tub, or adding heated floors. The choice is yours!
Yes, at High Sierra Remodeling & Construction, we stand by the quality of our work. We offer a three-year workmanship warranty on all our bathroom remodeling projects.
This means if you encounter any issues related to the work we've done within three years of project completion, we're committed to resolving them at no additional cost to you. This is part of our dedication to delivering not only impeccable finishes but also peace of mind for our clients.
No, moving out is not necessary during the bathroom remodeling process. We aim to make the renovation as hassle-free as possible for you.
However, if you'd prefer to avoid the noise and activity associated with remodeling work, you may choose to stay elsewhere while we complete the project.
At High Sierra Remodeling & Construction, we prioritize minimizing disruptions to your daily life and maintaining a clean, safe worksite throughout the project.
Enjoy A Fully-Upgraded Bathroom
Contact us today at (775) 242-6405 to start planning your bathroom remodel. We would be happy to answer any further questions and provide you with a free estimate.
Let the skilled team at High Sierra Remodeling & Construction transform your bathroom into a space of comfort, functionality, and beauty. We look forward to working with you!
Other Services You Might Be Interested In:​
Carson City, NV, the capital of Nevada, is a charming blend of history, nature, and culture. With a rich mining past, the city offers numerous historical sites, museums, and a vibrant downtown area teeming with unique shops, restaurants, and art galleries. The city is surrounded by the breathtaking beauty of the Sierra Nevada Mountains, providing ample outdoor recreational opportunities such as hiking, biking, and skiing.