A bathroom remodeling in Reno, Nevada, costs around $30,000 and is one of the top three home improvements with the greatest return on investment, according to the Cost vs. Value Report 2022. Minor bathroom repairs provide a 67.5 percent rate of return, while major bathroom renovation returns 59.5 percent.
At High Sierra Remodeling & Construction, we believe knowing the cost of your bathroom renovation is essential to you and us. That's why we remain transparent with every expense associated with the project, so there are no shocks at a later date. We strive for excellent renovations here. However, it is equally important that our clients enjoy each step – from the beginning through!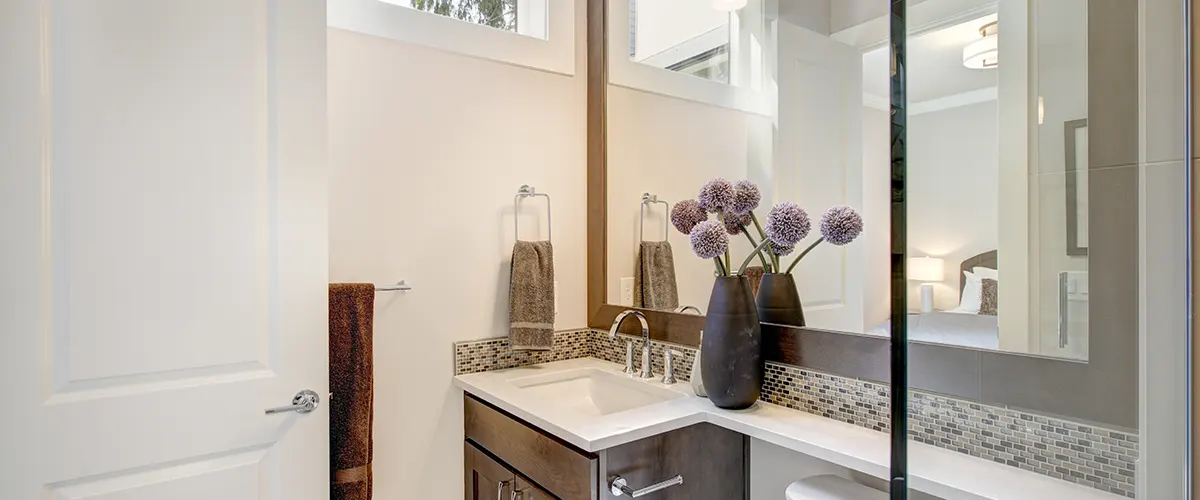 The Typical Bathroom Renovation Cost In Reno, NV
If all the other elements remain consistent, remodeling a spacious bathroom is more expensive than renovating a smaller one. Of course, many details can modify the overall cost of your project since factors such as size and materials used come into play when it comes to personalizing your new space.
Here is further information to give you an idea of what typical expenses are in Reno, NV, for different-sized bathrooms.
| Size (square feet) | Average Cost |
| --- | --- |
| Small <70 sq ft | $20,500 - $35,000 |
| Medium 100-150 sq ft | $35,500 - $60,000 |
| Large 200+ sq ft | $70,000 - $100,000+ |
Labor In A Bathroom Renovation Cost In Reno
No need to feel stressed about your upcoming bathroom remodel; it may seem like a large project, but we have all the professionals you'll need to help see it through.
If you're considering adding additional walls to your project, an architect is the professional to have on your side. Not only do they ensure that any blueprint rooms are well-structured and secure before construction begins, but their sketches and plans also need to apply for a building permit after assessing the property.
In terms of costs, architects typically charge anywhere from a $65-$400 hourly rate or 10%-20% of the total cost as a one-off payment – depending entirely upon how extensive your entire project might be!
Achieving the bathroom of your dreams requires a professional designer. They will assist you in bringing your vision to life while keeping it within budget. This expertise typically costs 10-20% of the total, with one-time consultation fees ranging from $300 to $1,500 based on experience level. Make sure to take advantage of this invaluable resource and make every decision count!
For bathroom water leaks that require more than simple repairs, it's best to call a professional plumber. Not only can they provide temporary fixes, but they will also address the source of the issue – ensuring you won't have any recurrences in the future.
Plumbers usually charge between $70 and $150 per hour for their services and material expenses associated with the job at hand. So if your plumbing problems are too difficult for handymen to solve, make sure to give an experienced plumber a call!
If you want to guarantee the safety of yourself and your family, it's wise to update your electrical wiring when relocating or installing devices. This way, you can be certain that everything is secure. An electrician usually requests between $80 and $150 per hour for labor plus materials costs. Upgrading will help safeguard both people and property!
If you plan to update your bathroom cabinets, you have three options: stock, semi-custom, or fully custom. If you want a specific style for your bathroom, hiring a professional carpenter is probably best. However, if you're looking for an investment that will appreciate over time, semi-custom furniture may be the right choice.
According to The Kitchen Cabinet Manufacturers Association, creating something unique by working with individual artisans is always worth the investment—even more so when raising the resale value of your home improvement project.
Bath Renovation Cost In Reno By Upgrades
Here is the cost of some of the most popular improvements and renovations in Reno to provide you with an idea of how much money you'll need for your bathroom makeover:
For a small bathroom, adding an appropriate vanity can make it look much more inviting and aesthetically pleasing. Dual vanities are ideal for those who don't have adequate storage in their bathrooms. An ornamental piece as the standout element of your design will be excellent for guest or powder rooms. KCMA recommends semi-custom models to get maximum value out of this investment!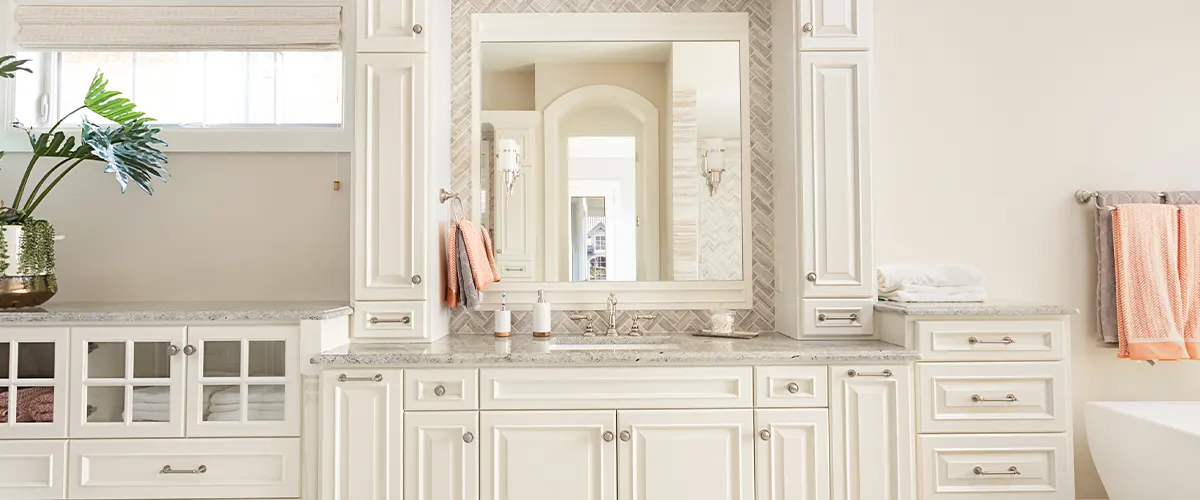 Repair your flooring without breaking the bank – you don't need to start from scratch! With daily wear and tear, your floor may suffer some damage over time. However, it's generally more cost-effective and easier to concentrate on these areas than replacing the entire thing. For instance, porcelain laminate tiles are usually only around $10-$30 per square foot – an economical choice compared to other options available in stores today.
Transform the look of your home and make it feel luxurious without having to break the bank with luxury vinyl tile (LVT). This versatile flooring comes in a variety of wood-look or stone varieties, offering an affordable alternative to solid hardwood floors. On average, homeowners spend $1,600 for 200 sqft of LVT with a textured finish – making this upgrade more feasible than ever!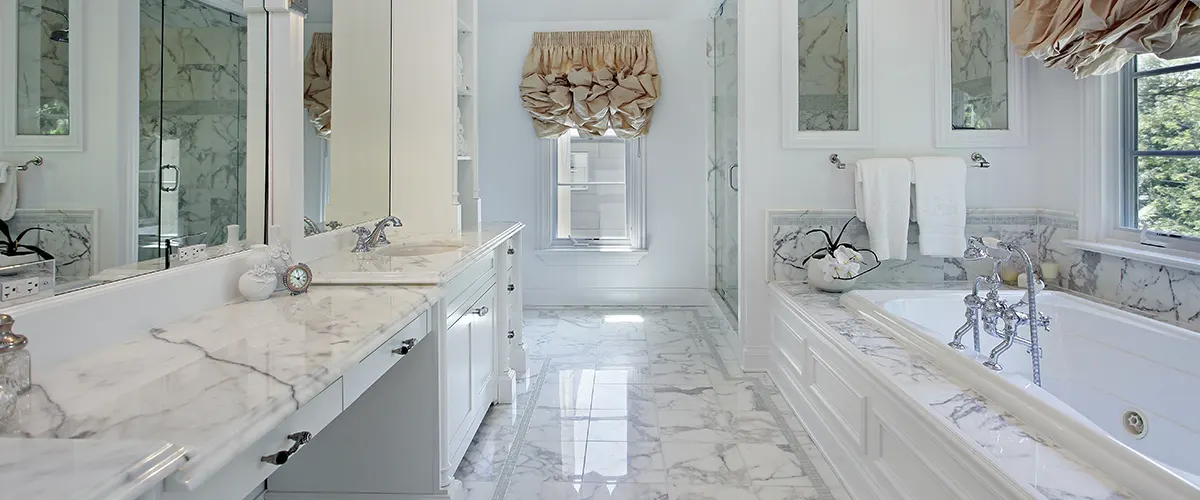 An ideal countertop in any room–including the bathroom at your workplace– is beautiful and useful without high maintenance. If you are looking for a long-lasting option, consider quartz. Compared to other materials, top-quality quartz worktops have fewer veins and provide a more consistent look that can upgrade your bathroom's aesthetic appeal.
Additionally, quartz is scratch-resistant, making it ideal for surfaces in your home that see a lot of wear and tear. In terms of price, quartz falls into the middle to high range at $75-$100 per square foot. This puts it above laminate or solid surface materials choices. Granite and marble are also excellent bathroom materials because of their durability; however, the high installation cost often deters people from using them.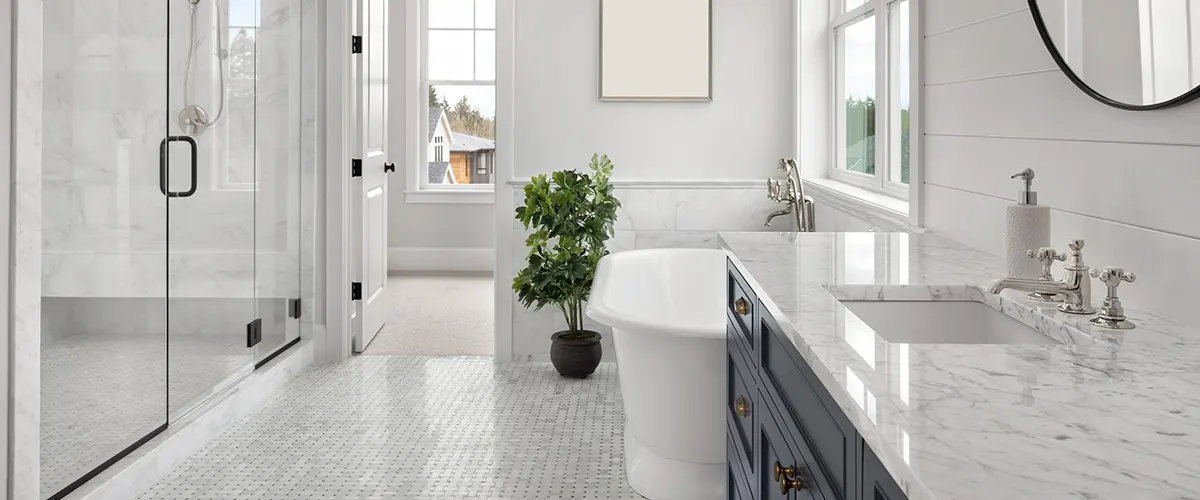 If you're considering a bathroom makeover, one option to think about is replacing an old tub with a walk-in shower and glass shower doors. Although it will likely increase the cost of your Reno, NV, bathroom renovation initially, it will be well worth it in the long run. A typical walk-in shower remodel costs between $1,000 – $5,000, depending on the size and materials used. Generally speaking, renovating an old tub into a luxurious walk-in show can range from $500 to upwards of$2,500+.
Generally, tiling a bathroom floor or wall is more expensive than setting up shower pans. But it can be worth the extra money in certain cases. Quality influences prices when comparing porcelain and ceramic tiles; costs may range from $2k to an incredible $10k, depending on the specific project.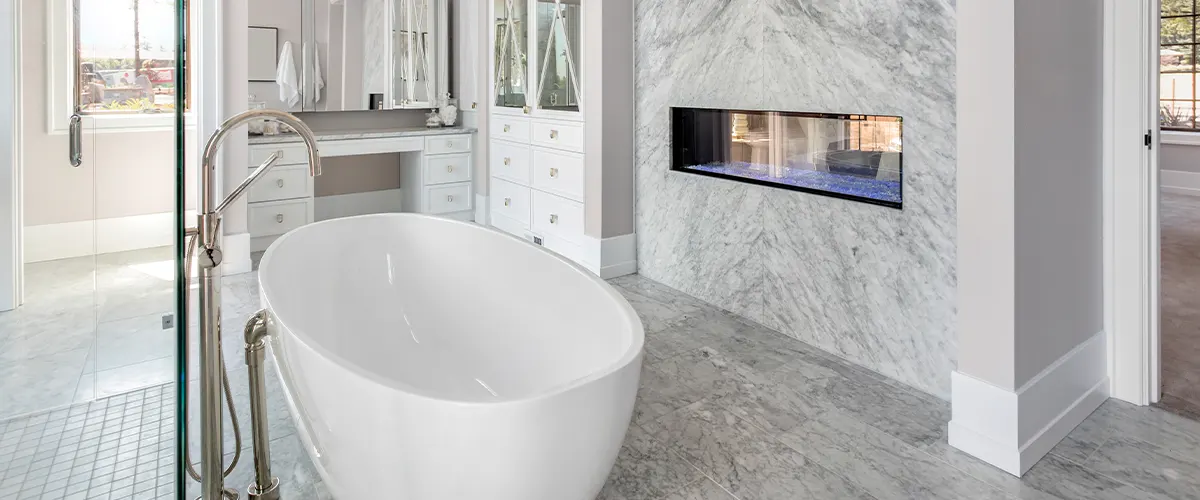 Budgeting For Your Bathroom Renovation Cost In Reno
Are you dreaming of a full-on home makeover? Be mindful that it will cost some money; however, what those home renovation shows don't tell you is the entire financial story. They usually end up remodeling bathrooms that exceed most people's budgets without revealing precisely how much each element costs. As such, many individuals can overestimate their projects and wind up spending more than they should have – an issue this guide with its various cost-saving tips for renovating aims to remedy!
If you find pleasure in taking the time to unwind and relax in your bathroom, make it a priority. Designing an aesthetically pleasing space should be done with your designer, as this will help ensure that every detail of what you envision comes to life. If pampering yourself isn't really something that resonates with you, then investing less money on minor upgrades would be ideal.
Allocating an extra 20% of your total project cost to a contingency fund will help protect you from any unexpected bathroom renovation costs. You'll be prepared for anything that could go wrong, but if all goes according to plan? The additional money can sit in your account as a buffer room and peace of mind!
Know What You're Paying For For Bathroom Remodels
Many people are unaware that, generally, renovating a bathroom is more cost-effective than transforming a bedroom or kitchen. A key factor in having an enjoyable experience is understanding all the expenses prior to starting the project; consequently, there won't be any unexpected costs later on.
Be sure to ask about extra charges before signing off on anything. It's essential to have a precise idea of what you'll need pay up front so that you can prepare financially ahead of time and avoid unpleasant surprises!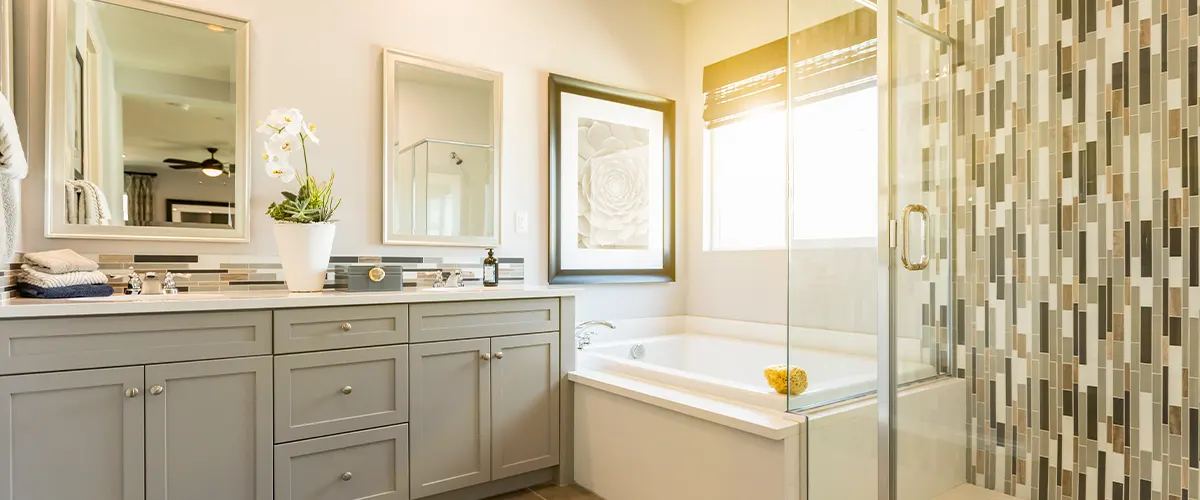 Get Pricing Transparency For Your Bathroom Remodeling Cost In Reno, NV!
Investing in a bathroom remodel is always an excellent decision, no matter when you're planning on selling your home. Not only will it improve the value of your property, but it'll also make everyday life more enjoyable and convenient!
If practicality is what you need from this renovation project, rest assured that we are here to provide you with the best contracting experience possible in Reno. We guarantee top-notch results for maximum satisfaction – so start looking forward to making those much-needed changes today!
Time To Start Your Well-Deserved Bathroom Remodeling Project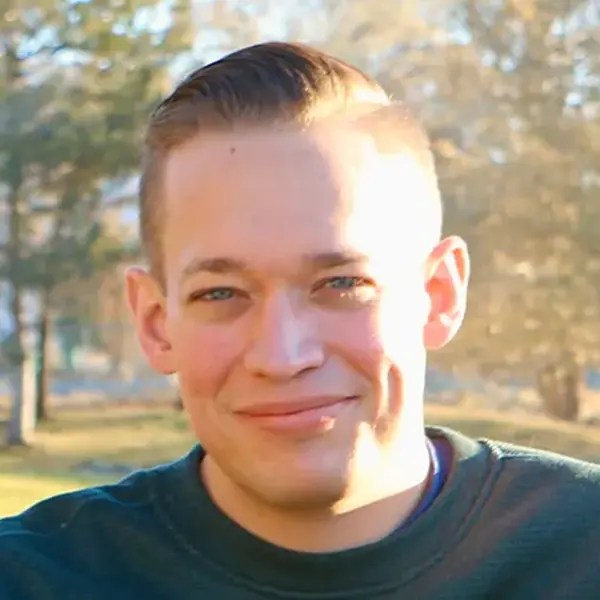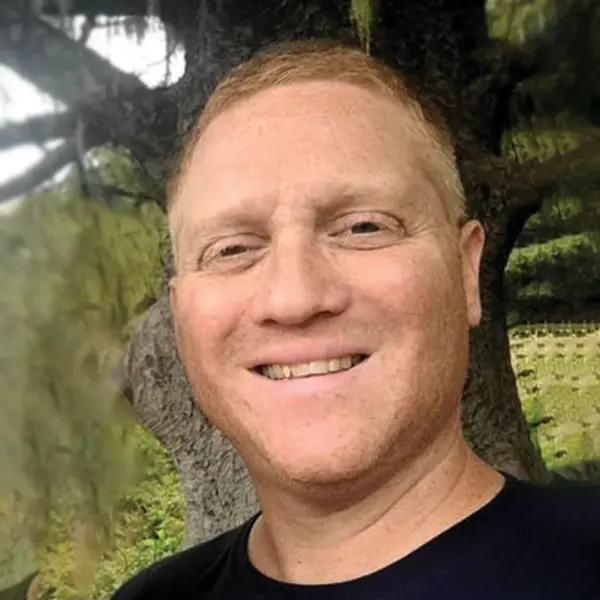 Hi, we're the owners of High Sierra Remodeling & Construction. If you're interested in a bathroom remodeling project in Reno, feel free to contact us. 
Just fill out our quick form, and we will personally get back to you with a phone consultation shortly.