When it comes to remodeling your kitchen, one of the most important decisions you'll make is choosing the right flooring option.
And with all the flooring options available, this task is far from being easy. You'll want to choose the perfect combination of style, durability, ease of maintenance, and budget to choose a type of floor that makes your new kitchen an investment!
In this blog post, we'll help you navigate through some of the best kitchen flooring options and we'll see which one would be great for your particular needs.
Let's begin!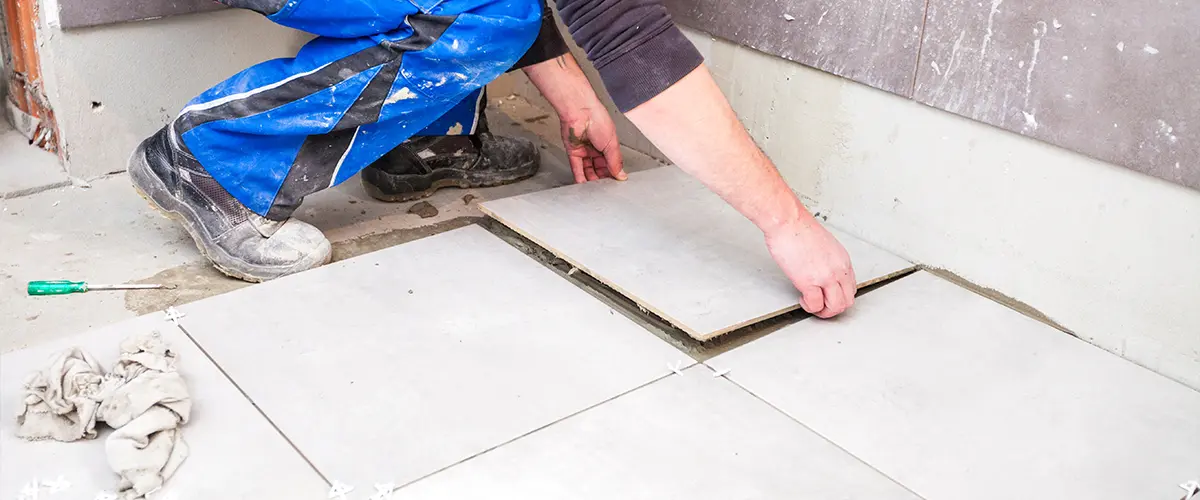 Top 5 Kitchen Flooring Options
Let's look at the best 5 kitchen flooring options and see which might be the perfect fit for your space.
Hardwood flooring has become an increasingly popular choice for homeowners who desire a warm and natural aesthetic in their kitchen.
This option continues to be highly sought after due to recent innovations that have made hardwood floors more durable and moisture-resistant than ever before, namely the engineered hardwood floors.
Hardwood floors not only add elegance but also offer undeniable functionality. Available in various species such as oak, maple, and cherry, you can easily find a design that complements your home's style.
However, it is essential to keep maintenance requirements in mind – periodic refinishing may be necessary depending on the type of finish applied. Besides this, you'll need a professional to install the hardwood floors.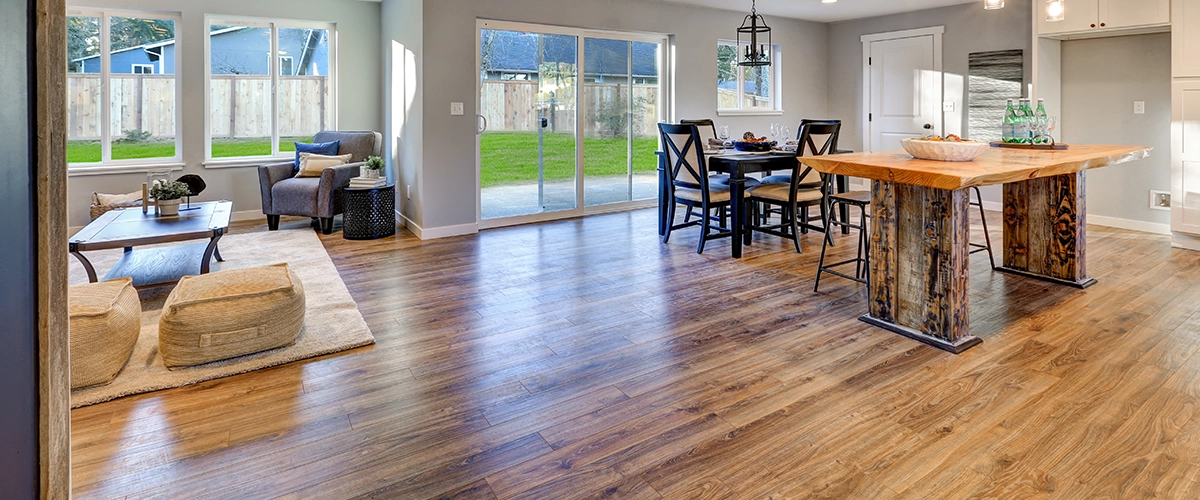 One of the most popular choices among homeowners for kitchen flooring is tile, which includes both ceramic and porcelain options.
With a vast array of colors, patterns, and sizes available on the market, tile is a durable kitchen flooring choice that allows you to create unique and mesmerising designs. Tile gives you the chance to highlight your personal style while also enhancing your kitchen's aesthetic appeal.
Homeowners seeking extra safety can opt for slip-resistant tiles to prevent accidents in their kitchens. Moreover, investing in quality tile flooring can increase the resale value of your home should you decide to sell in the future.
Some downsides of porcelain or ceramic tiles is that they require professional installation, they're cold and hard on the feet, and they cost more money than most other options.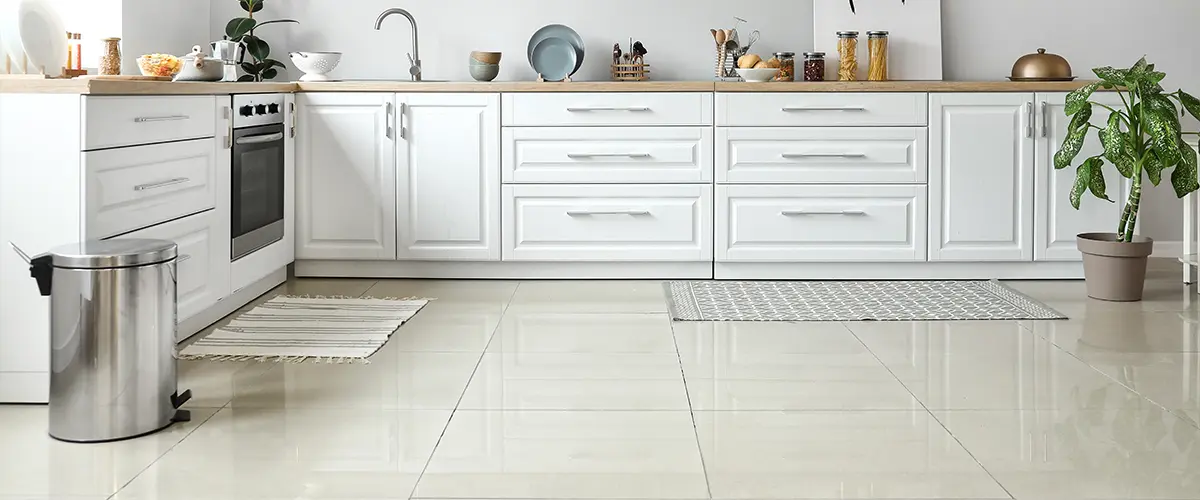 Vinyl flooring has emerged as one of the top five kitchen flooring options for homeowners, thanks to its affordability, versatility, and low-maintenance nature.
This popular option is not only budget-friendly but also provides a stain-resistant surface that can withstand everyday spills and splashes common in busy kitchens.
Vinyl flooring is split in luxury vinyl planks or tiles (LVP and LVT) or vinyl sheets.
Vinyl plank flooring is particularly well-suited for high-traffic areas due to its scratch and water-resistant properties. Its wide array of colors and patterns, including desirable wood-look and stone-look options, make it an excellent choice for any kitchen space.
Their installation is also rather simple, as many LVP have either a click-lock or gluedown installation.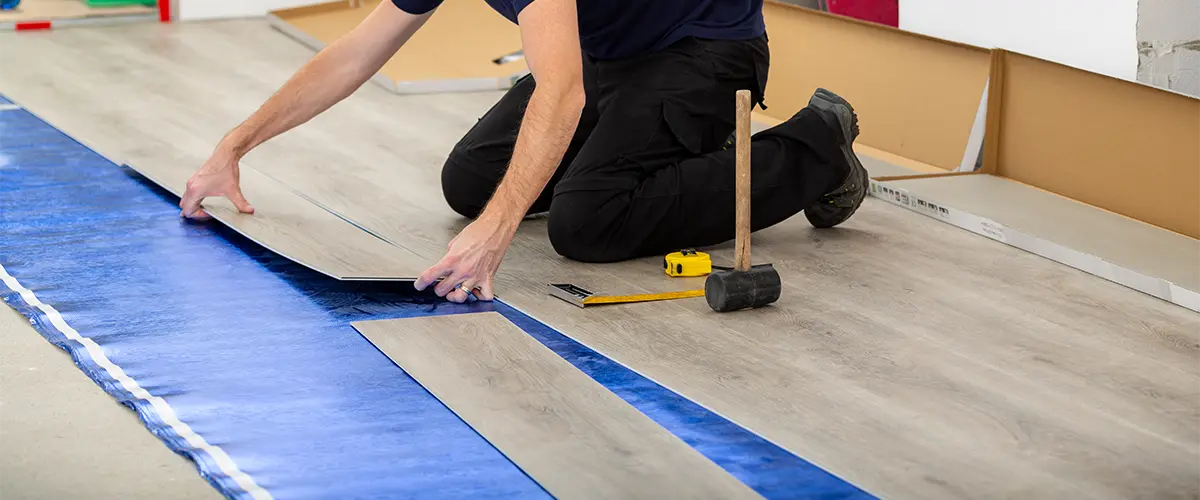 Laminate flooring is a top choice for homeowners looking for an affordable and durable option for their kitchen. With its ability to mimic the look of real wood, laminate flooring can add warmth and beauty to any kitchen design without breaking the bank.
The scratch-resistant surface makes it easy to maintain, and it's perfect for busy families who want a floor that can handle everyday wear and tear.
While laminate flooring is water-resistant, excessive exposure may cause swelling in the particle board base, so be sure to clean up any spills promptly. Laminate flooring has also come a long way in terms of appearance over recent years, now looking more and more like natural hardwood.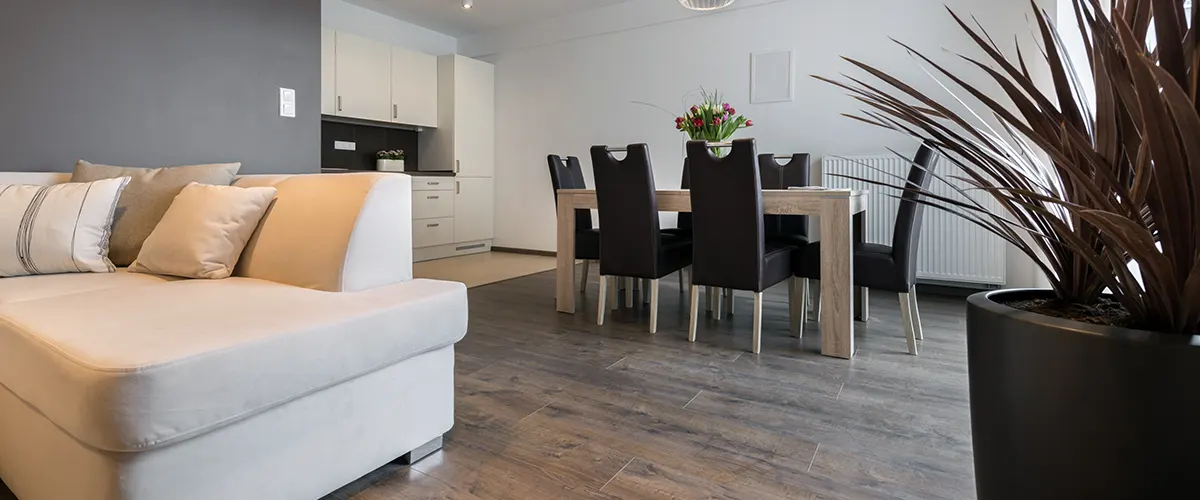 Natural Stone Tile Flooring
Natural stone tile flooring is probably the most expensive kitchen flooring option on the market. These are real granite, quartz, or marble slabs that you can install and have in your kitchen.
For high-traffic areas, however, this option might not be ideal. Marble, for example, is a softstone that's more susceptible to cracks and chips.
Like porcelain or ceramic tiles, these are cold and hard on the feet, but can bring a luxurious and unique vibe to your kitchen.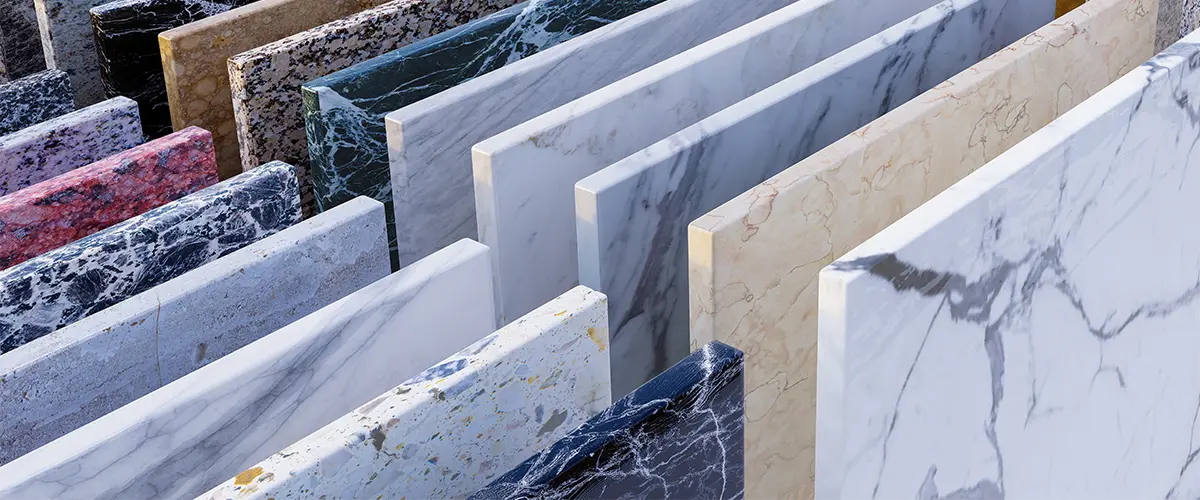 Pros And Cons For Each Option
Evaluating the pros and cons of each kitchen flooring option can help homeowners make an informed decision when selecting the very best flooring choice for their needs. Here's a list of advantages and disadvantages for the top kitchen flooring options:
Type Of Flooring
Pros
Cons
Hardwood Flooring
Durable and long-lasting
Adds warmth and beauty
Can be refinished multiple times.
Susceptible to moisture and stains
May require more maintenance.
Can be expensive.
Tile Flooring
Highly durable and resistant to wear.
Low maintenance and easy to clean.
Wide variety of styles and colors available.
Cold and hard underfoot.
Can be difficult to install.
Grout can be prone to staining and discoloration.
Vinyl Flooring
Affordable and cost-effective.
Easy to install and maintain.
Stain and water-resistant.
Not as durable as other options.
Can be prone to fading or yellowing over time.
May not add as much value to the home as other flooring types.
Laminate Flooring
Provides a wood-like appearance at a lower cost.
Easy to install and maintain.
Resistant to scratches and dents.
Vulnerable to water damage and chipping.
Cannot be refinished.
May not last as long as other options.
Luxury Vinyl Plank/Tile Flooring
Mimics the look of wood or stone.
Durable and water-resistant.
Easy to install and maintain.
Can be more expensive than traditional vinyl flooring.
May not be as environmentally friendly as other options.
Quality can vary among brands and products.
How To Choose The Best Kitchen Flooring For Your Needs
Choosing the right flooring option for your kitchen can be a daunting task. Would you rather have a comfortable mood where walking barefoot feels good, or you'd rather enjoy an upscale vibe from a floor that's also easy to clean? Let's dive deeper.
Consider Your Lifestyle And Needs
To choose the best kitchen flooring for your needs, it's important to consider your lifestyle and how you use your kitchen.
If you have a lot of foot traffic or pets, then durable materials like porcelain or ceramic tile, LVP, or natural stone may be the best choice.
At the same time, if you have an open-space kitchen with a living space, having LVP throughout the area will bring a cozy and comfortable vibe, perfect to host family gatherings and parties in your kitchen.
Balancing practicality with style is key when choosing flooring for any room in your home but especially so for high-traffic areas like kitchens.
Look For Durability And Ease Of Maintenance
When choosing kitchen flooring, durability and ease of maintenance are crucial factors to consider. You want a flooring material that can withstand the daily wear and tear of foot traffic and spills without needing a lot of repairs down the line.
Water-resistant materials such as ceramic or porcelain tile are also extremely easy to clean, making a great choice for high-traffic areas. If you're not using your kitchen a lot, LVP, laminate, or hardwood flooring would be a great option.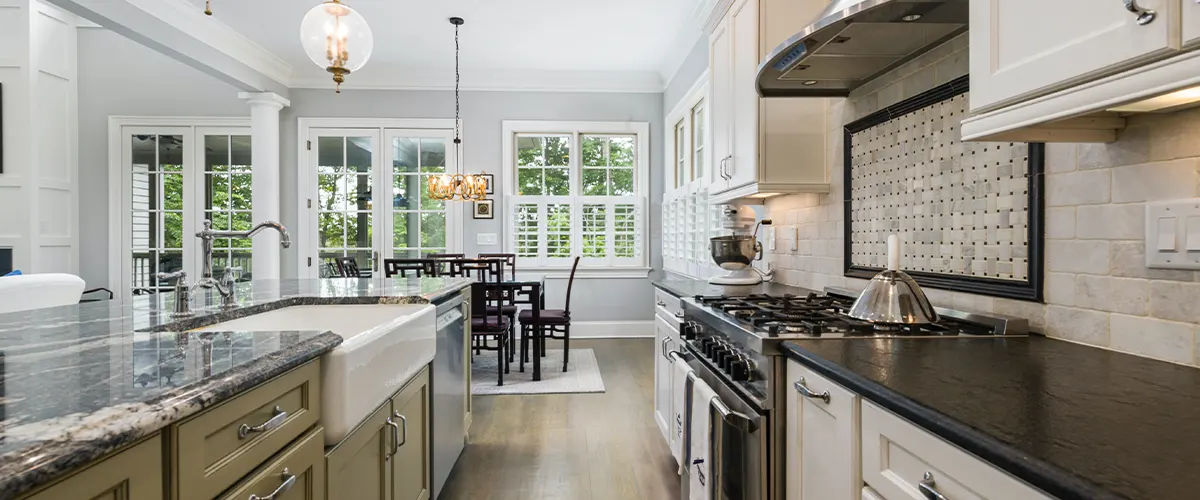 Match Flooring To Your Kitchen Design
When it comes to choosing the best kitchen flooring for your home, it's not just about durability and ease of maintenance. You also want to consider how well the flooring matches your kitchen design.
On the other hand, if you have a rustic or farmhouse-style kitchen with natural wood cabinetry and warm earth tones, solid hardwood and floors would be an ideal match.
Additionally, luxury vinyl plank flooring (LVP) can mimic various textures like stone or wood in remarkably convincing ways and add visual appeal while providing functionality in high-traffic areas.
Budget is often a main concern of homeowners remodeling or renovating their kitchens. And we get it. Everyone wants a quality flooring material without breaking the bank.
If that's what you're looking for too, our best advice is to choose luxury vinyl plank flooring or laminate. These are cost-effective and provide a great deal of functionality.
If you're okay with spending a little bit more for superior quality flooring, porcelain or ceramic tile are highly functional for kitchens and have very few downsides.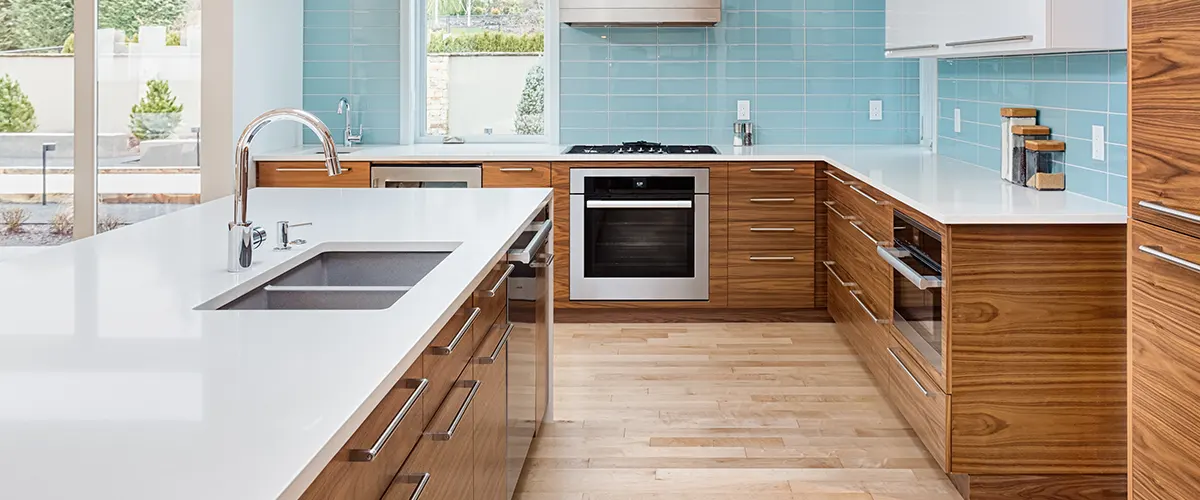 Top 5 Kitchen Flooring Options
Choosing the best kitchen flooring for your home can be a daunting task. It's important to consider your lifestyle needs, style preferences, and budget when making a decision.
Our personal favorites here at High Sierra Remodeling & Construction are LVP and tile floors. These are reasonably priced and bring various benefits that boost your kitchen's functionality and aesthetics.
If you want to work with a professional and have your kitchen floor installed properly, we've got you covered!
Request a free quote now or call us directly at (775) 242-6405 to discuss about getting the best bathroom sink option out there!