Elevate your home today! Contact us for Carson City kitchen remodeling – where dreams meet reality.
You're in the right place if you're looking for a kitchen remodel in Carson City, NV. We understand the struggles of having an outdated kitchen – the lack of modern amenities, inefficient layouts, and aesthetic that no longer fits your style. It's overwhelming, but we're here to help.
Our professional team at High Sierra Remodeling & Construction bring an optimal blend of design prowess and technical expertise for your kitchen remodeling project. We'll transform your space into a kitchen that's not just visually appealing, but also functional, reflecting your personality and needs. Let us turn your kitchen into a heart of your home.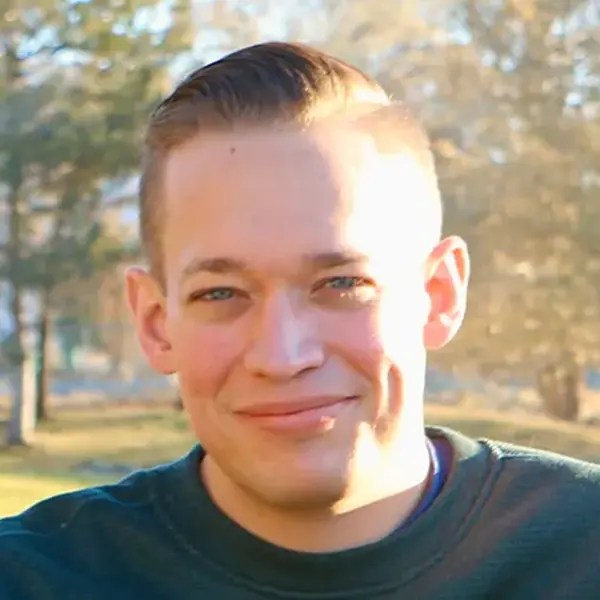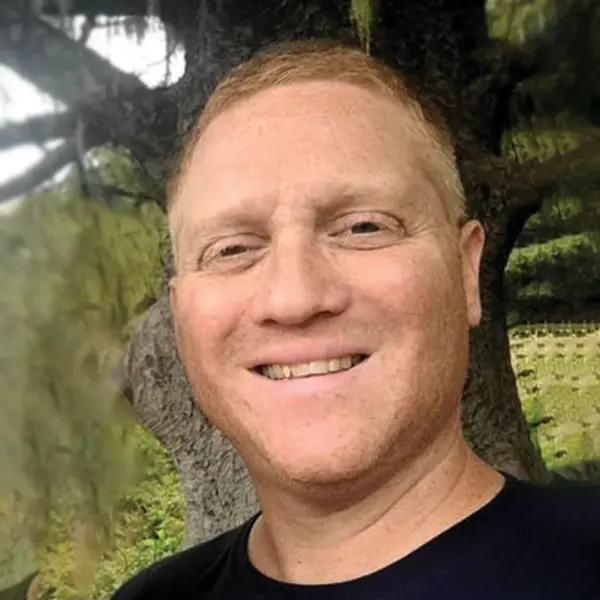 Travis Gunter & Jason Blazeff – Owners Of High Sierra Remodeling & Construction
Brought together by a desire to innovate and improve the construction industry, Travis and Jason created High Sierra Remodeling & Construction with a clear goal in mind: to make remodeling straightforward and easy for homeowners like you. Enjoy the complete design-build services that bring your home to modern standards!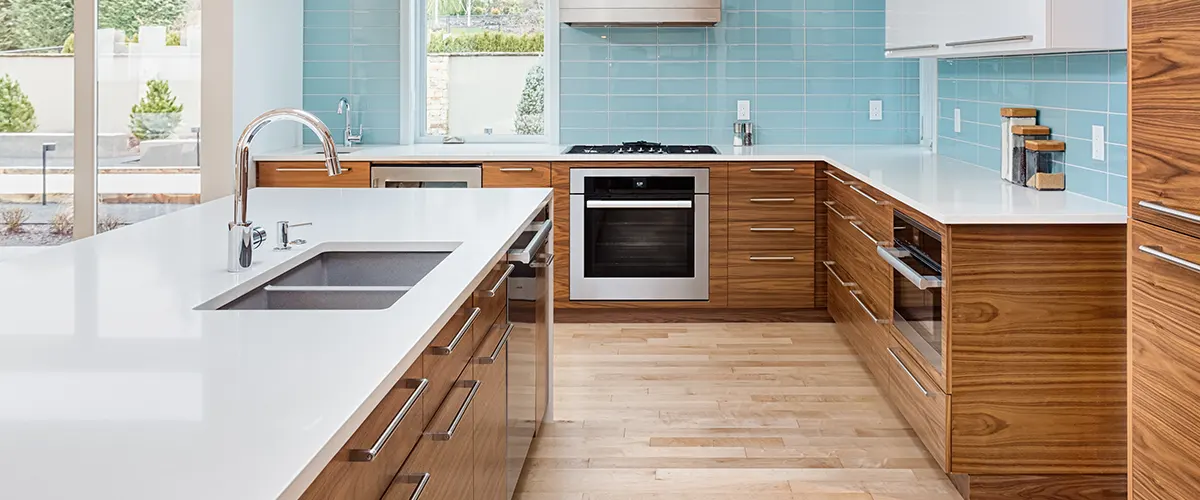 Why Choose Us for Your Kitchen Remodeling in Carson City, NV
Revamp your culinary space with us and experience the blend of style and efficiency. Our commitment to quality enhancement, personalized touches, and a streamlined remodeling process makes us the ultimate choice for your kitchen transformation in Carson City. Witness how we turn remodeling challenges into rewarding outcomes.
Partner with us to enjoy:
Explore Our Portfolio: Witness the Magic of Transformation
Dive into our comprehensive portfolio showcasing our expertise in kitchen remodeling in Carson City. From classic elegance to modern minimalism, discover how we've transformed ordinary kitchens into extraordinary spaces, merging functionality with style seamlessly.
For all your kitchen remodeling needs in Carson City, don't hesitate to give us a call at (775) 242-6405. You can also leave us a message to discuss your project, ask any queries, or request a quote. Let's start the exciting journey of transforming your kitchen today!
Hear from Our Delighted Customers
Check out the testimonials from our happy clients in Carson City who have transformed their kitchens with our remodeling services. Their stories of change and satisfaction could be yours!
I can't say enough about them. I will start with how Travis and Jay were professional, helpful and reliable. I recently bought a house that was a rental for the past 10 years and let's just say it wasn't well kept. From the start to finish I was impressed with their work and ability to get the job done.
I felt comfortable with them doing the work and was very happy with the work. I was never worried about what I would find at the end of the day of their work, I knew I would be happy. They were able to start sooner than they thought and were done before the time frame. Travis always answered my million questions and was more than accommodating to me. Thank you for taking my nightmare of a house and giving me my dream home. I can't recommend these guys enough, you won't be upset if you hire them.
High Sierra Remodeling & Construction, not only professional at what they do but also reliable and dependable. We had our house completely remodeled (new kitchen, floors, new bathrooms, lighting, etc.) The quality of work was excellent! Travis and Jay and their whole team were great to work with, and very professional.
There were several trades involved in the overall construction and Travis & Jay made sure the work was coordinated so that there were no delays and kept the work flowing so that it was completed in our expected timeframe. Any homeowner choosing to work with them will be very pleased and extremely satisfied.
Kitchen Remodeling Cost In Carson City, NV
On average, the cost of kitchen remodeling in Carson City, NV, may range from $45,000 to $100,000. This cost could vary depending on factors such as the size of your kitchen, the quality of materials, the extent of the changes, and the complexity of the project.
We strive to offer competitive pricing and provide the best value for your money, ensuring that every dollar you spend translates into quality and satisfaction in your newly remodeled kitchen. Contact us for a more precise estimate based on your specific requirements and preferences.
| Size (square feet) | Average Cost |
| --- | --- |
| < 70 sq ft | $35,500 - $60,000 |
| 100-150 sq ft | $60,500 - $80,000 |
| 200+ sq ft | $80,000 - $90,000+ |
*While we've provided average cost ranges for kitchen remodeling in Carson City, NV, please note that prices can vary based on factors like your preferences, material quality, custom installations, and project challenges. For a personalized quote tailored to your needs and budget, contact High Sierra Remodeling & Construction at (775) 242-6405 or send us a message. We're here to help you create your dream kitchen!
Factors Contributing to Higher Kitchen Remodeling Costs in Carson City, NV
Several factors can influence the cost of a kitchen remodeling project in Carson City, NV, potentially pushing your budget higher. These include:
As a design-build company, we bring together the power of design and construction in one dynamic team. This means seamless communication and coordination, resulting in streamlined projects, faster completion times, and a cost-effective process. Get ready to make your kitchen dreams a reality with our comprehensive service. Let's build something extraordinary together!
Embark on Your Kitchen Remodeling Journey with High Sierra Remodeling & Construction
We understand your concerns about the budget and timeline. Our dedicated team strives to deliver top-quality kitchen remodeling within your budget and adheres strictly to the set schedule.
Investing in kitchen remodeling is akin to making a daily small investment towards your home's value and your lifestyle. Imagine this: if your kitchen remodel costs $50,000 and lasts for 15 years, it's like spending only about $9 a day to enjoy a kitchen that's functional, modern, and truly yours. It's a price lower than your daily latte for a substantial daily uplift in living standards!
Respecting your home and your time is our priority. We pride ourselves on meeting project deadlines and ensuring your living space remains clean and organized throughout the remodeling process. Trust us to provide a smooth, hassle-free experience while transforming your kitchen in Carson City.
Our Three-Step Process To Simplifying Kitchen Remodeling in Carson City
Breaking down the journey towards your dream kitchen, we follow a simple three-step process to simplify your kitchen remodeling experience in Carson City. Let's explore these stages below.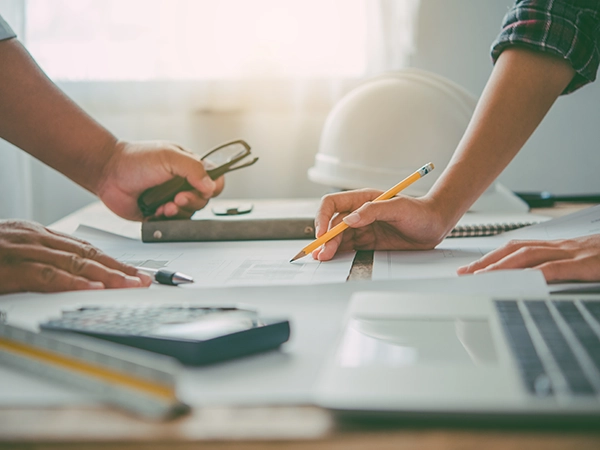 We listen to your ideas, blending them with our expertise to craft unique designs.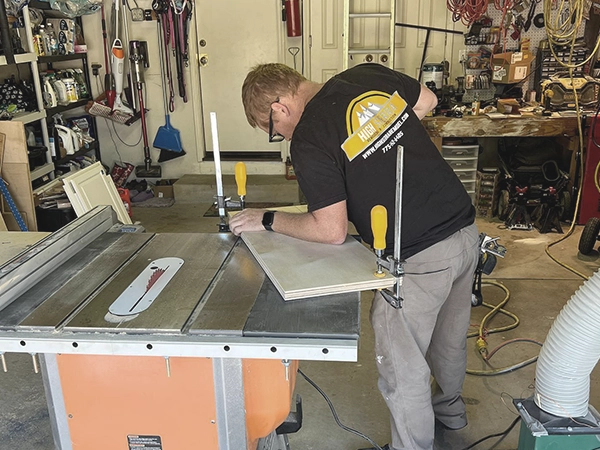 Our skilled team meticulously transforms your kitchen, prioritizing quality and precision.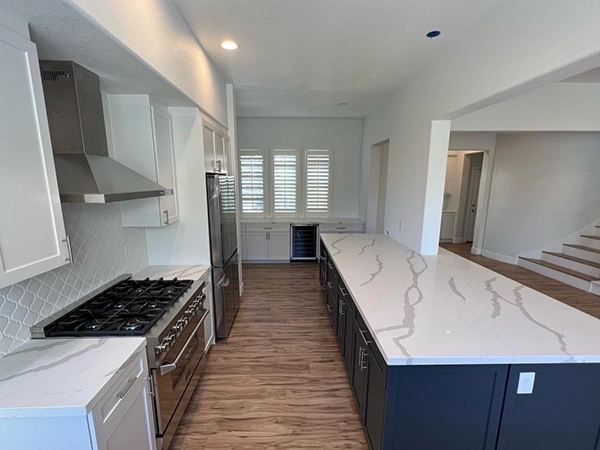 Revel in your dream kitchen, a perfect blend of style, function, and personal touch.
Kitchen Remodeling In Carson City, NV - FAQs
Ready to Redefine Your Kitchen?
Your dream kitchen is just a call away. Contact us at (775) 242-6405 and take the first step towards redefining your cooking space. Our team in Carson City is excited to bring your vision to life!
The High Sierra team did a tremendous job for us in an internal remodel / room reconfiguration. Their work was high-quality and they were incredibly professional and thoughtful throughout the process. We will use them in the future and can't recommend them more highly!
Travis and Jay are true pros. They were able to come out and give me a quote on short notice, they showed up to work exactly when they said they would, and they got the job done in the amount of time they said it would take them.
I'm very happy with my new shower. Overall a pleasant experience from start to finish. If you want the job done right, go with High Sierra.
Other Services You Might Be Interested In:​
Carson City, NV, the state capital, is a captivating blend of natural beauty and rich history. Nestled against the Eastern Sierra Nevada, the city offers easy access to Lake Tahoe's crystalline waters and majestic ski slopes. A stroll through the city reveals the grandeur of the State Capitol Building, the historic charm of the Kit Carson Trail, and the allure of the Nevada State Museum. The city's vibrant arts scene shines at the Brewery Arts Center while the rich railroad history is preserved at the Nevada State Railroad Museum. Carson City truly embodies the spirit of Nevada.