An average bathroom remodeling in Saddlehorn, NV, costs around $45,000 and is one of the top three home improvements with the greatest return on investment, as per Cost vs Value Report 2023.
At High Sierra Remodeling & Construction, we're ready to go above and beyond to ensure your new bathroom matches your lifestyle and makes it so much easier for you to enjoy your home.
Your needs and preferences will become our #1 priority, and you'll see that reflected in the product and service you'll get!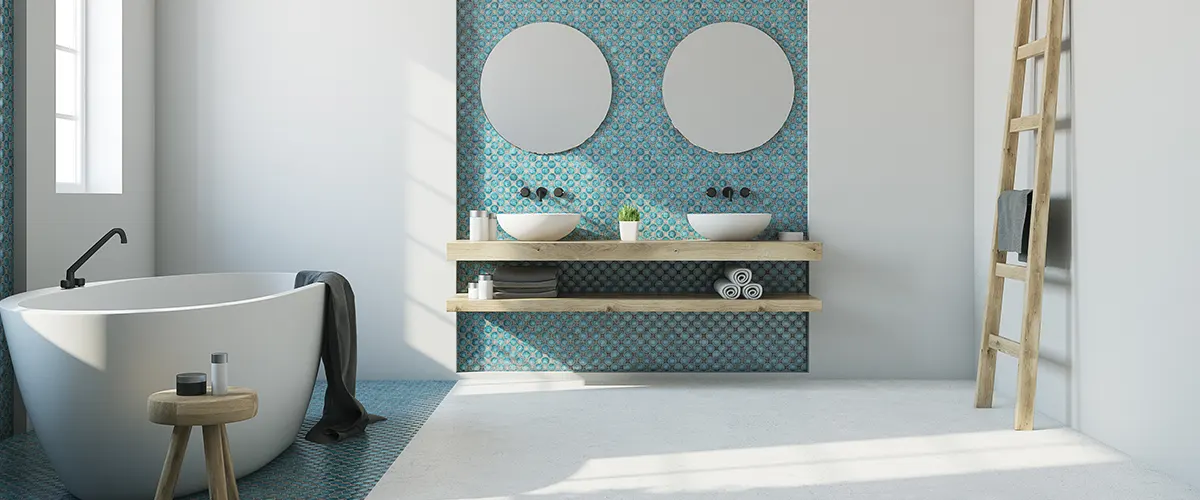 The Typical Bathroom Remodeling Cost In Saddlehorn
The cost of transforming your bathroom is highly dependent on several things, like the room's size, the materials you decide to use, and your preferences on extra features. Here are some estimates based on size only:
| Size(square feet) | Average Cost |
| --- | --- |
| Small <70 sq ft | $20,500 - $35,000 |
| Medium 100-150 sq ft | $35,500 - $60,000 |
| Large 200+ sq ft | $70,000 - $100,000+ |
Before
After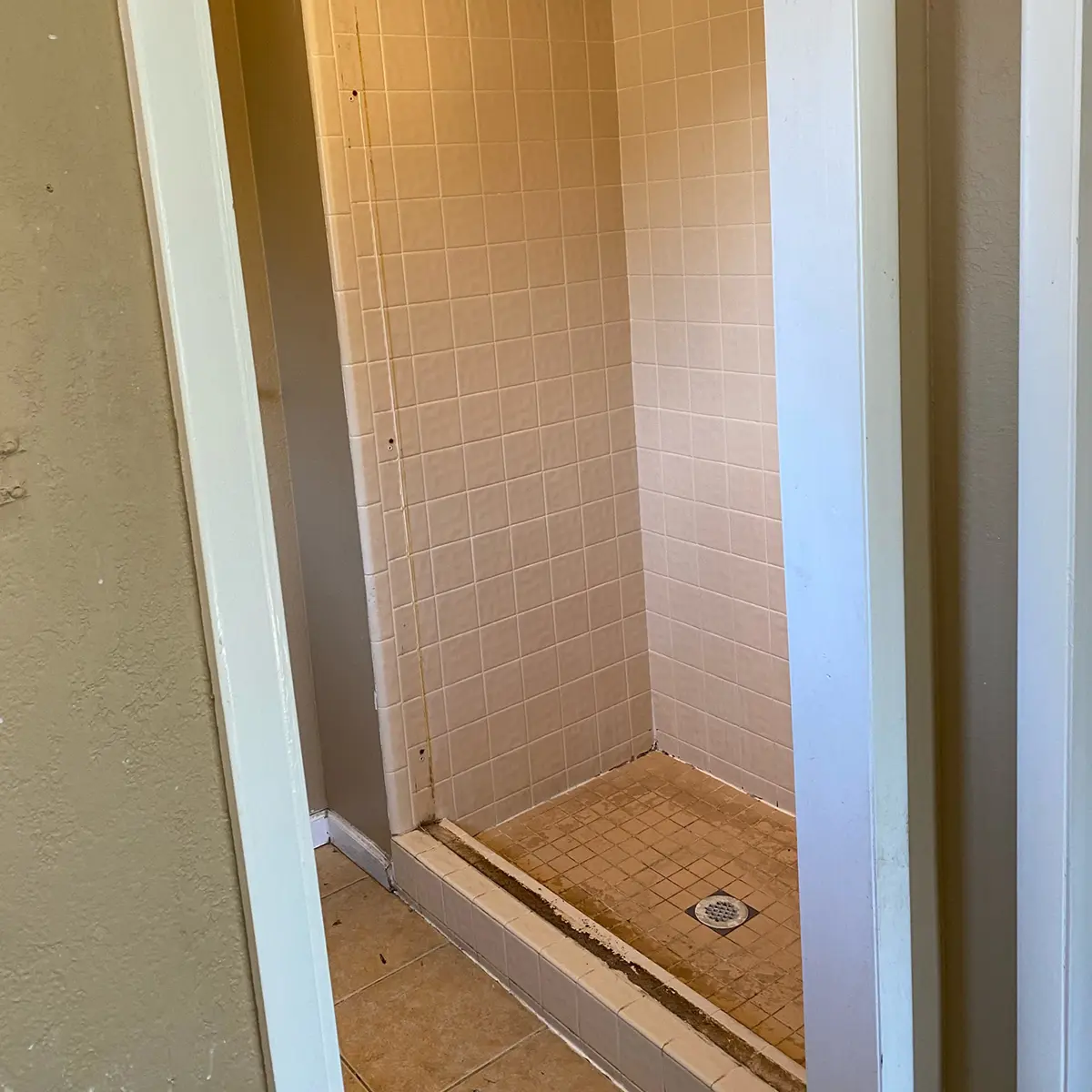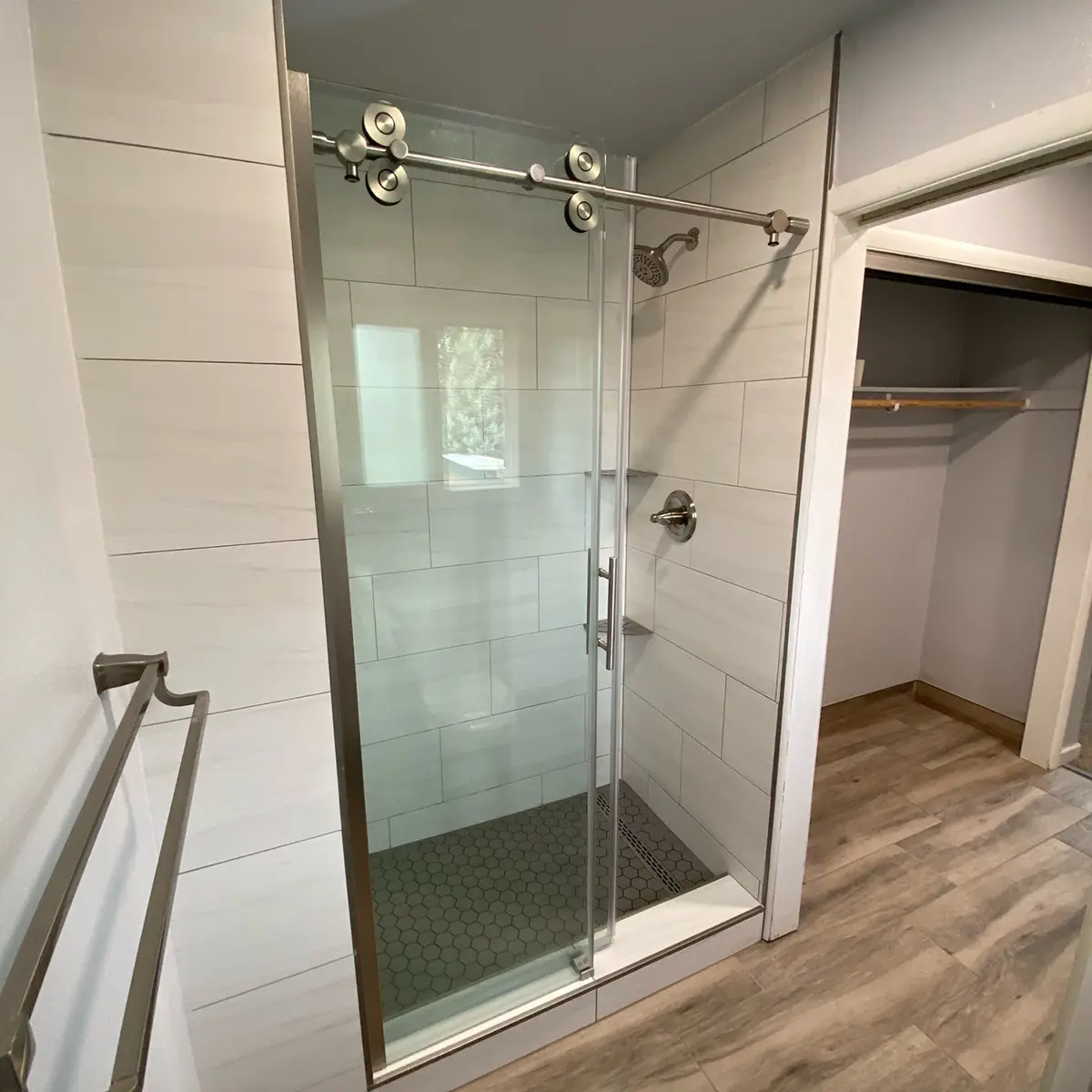 60 Sq. Ft. Master Bath in Saddlehorn
This bathroom remodeling project included:
The remodel was quoted at $35k, where the most expensive item was the shower, at $15k.
Get your free quote from High Sierra Remodeling & Construction now, and enjoy having the best pros in town on your project! We'll make your remodel worth it by transforming it into an investment!
Labor In A Bathroom Remodel Cost In Saddlehorn
Depending on the changes you want to make, you'll need different professionals for every stage.
An architect is required if you need to build new walls or demolish old ones in your existing bathroom. They generally charge between $500 and $1,000 per hour or a one-time fee of 10% to 20% of the total cost of your project.
To create a highly efficient bathroom, you'll need a bathroom designer to ensure the space is fully functional and looks great at the same time. Designers charge 10-20% of the overall remodel cost, or between $500 to $1,500 per hour.
A good plumber is required to make sure the installation is up to code and functioning at 100%. Plumbers charge between $70 and $150 per hour for their services and any necessary materials expenses.
If you want to get the job done the right way, be sure to upgrade the electrical wiring as well. Many homes still have wiring installation from many years ago, rendering it dangerous and inefficient. Usually, an electrician costs between $80 and $150 per hour in addition to supplies.
Get All In One With High Sierra Remodeling & Construction Premium Remodeling Services
Avoid the hassle of recruiting multiple people for your bathroom remodeling in Saddlehorn, and get everything you need right now!
High Sierra Remodeling & Construction has gathered a team of highly skilled tradesmen in Nevada to bring your vision to life. Our professionals share the same values and are fully committed to your success – all at a price that makes us your best option in the area!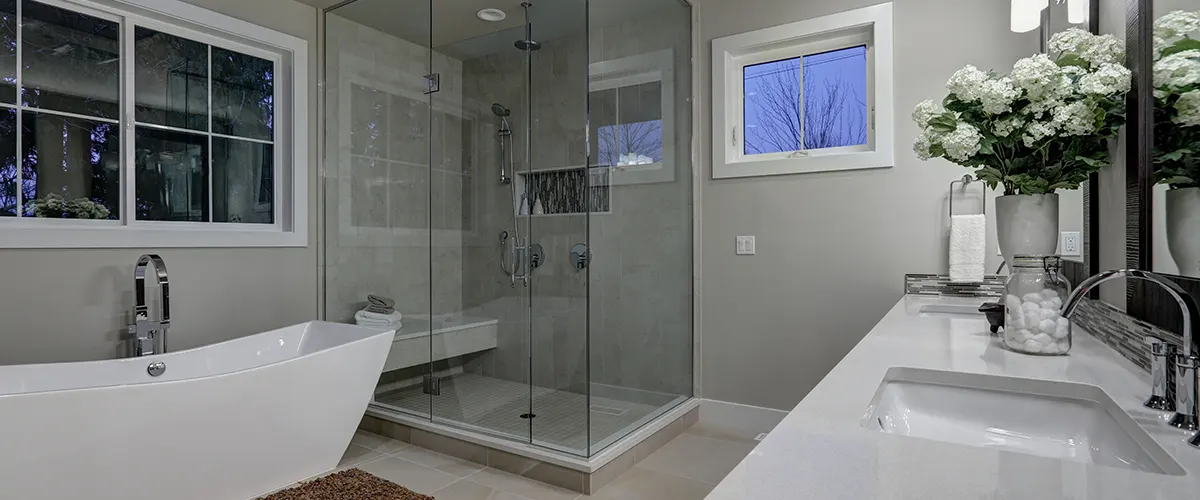 Bathroom Remodel Cost In Saddlehorn By Upgrades
Here is the cost of some of the most popular materials, features, and upgrades you can get for your new bath.
If you have a small bathroom, installing a vanity that matches your style can make it more attractive. In a larger bathroom with limited storage, you might want to consider a double vanity to utilize the space efficiently.
Vanities can cost anywhere from $500 to over $5k for a custom double vanity. To that, add the countertop material as well!
A walk-in shower with glass doors or a freestanding tub can dramatically elevate your bathroom's look during a makeover.
A shower remodel cost with bathroom tile ranges from $1,000 to $5,000. The majority of walk-in showers are renovated for around $1,000 and up. The expense is primarily determined by the size of the shower and the materials used.
Free-standing tubs will also cost anywhere from $2k to up to $10k for a more elegant tub.
Hardwood floors in bathrooms are not great, but if you don't want to replace them just yet, refinishing them cost between $3 to $8 per square foot.
Porcelain tiles are a top-quality option for bathroom flooring, but they do come with a higher price tag compared to other materials. The cost of professionally installed tiling usually falls within the range of $10 to $30 per square foot.
Choosing luxury vinyl tiles or planks is a cost-effective alternative. They mimic the appearance of real wood or stone but are less problematic.
LVP floorboards typically range from $2.5 to $12 per square foot.
An attractive yet highly functional countertop is necessary to complement the new vanity.
Quartz is the perfect material for those who desire a countertop that will stand the test of time. With their consistent, vein-free look and feel, quartz worktops lend an elegant touch to any bathroom area. They're also scratch-resistant, making them ideal for areas in your house that see A LOT of use.
| Countertop Material | Typical Cost(per square foot installed) |
| --- | --- |
| Laminate | $30 - $72 |
| Quartz | $72 - $240 |
| Hardwood | $54 - $300 |
| Marble | $102 - $360 |
| Granite | $72 - $300 |
| Stainless Steel | $108 - $215 |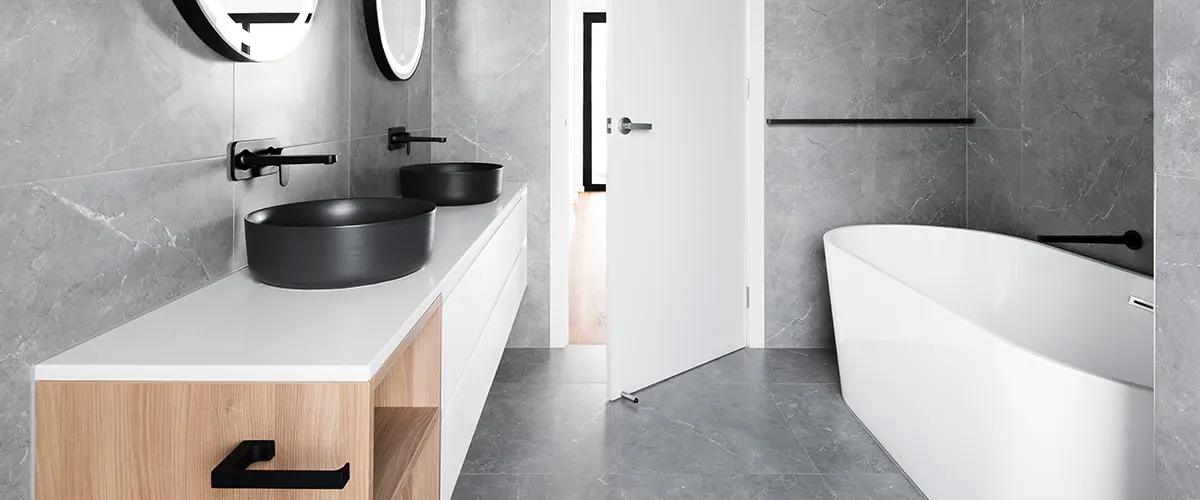 Frequently Asked Questions
Get Pricing Transparency For Your Bathroom Remodeling Cost In Saddlehorn!
High Sierra Remodeling & Construction professionals will work with you to design the ideal bathroom for your house, whether it's large or small.
For a bathroom remodeling cost in Saddlehorn that includes modern and efficient upgrades, you'll want to budget approximately $40,000. However, if you have a different budget in mind, we can provide more budget-friendly options that still offer high-quality results.
With our bathroom remodeling services, we ensure that your project stays on track and within budget.
We tend to over-deliver, so expect:
Begin Your Bathroom Remodeling Project Today!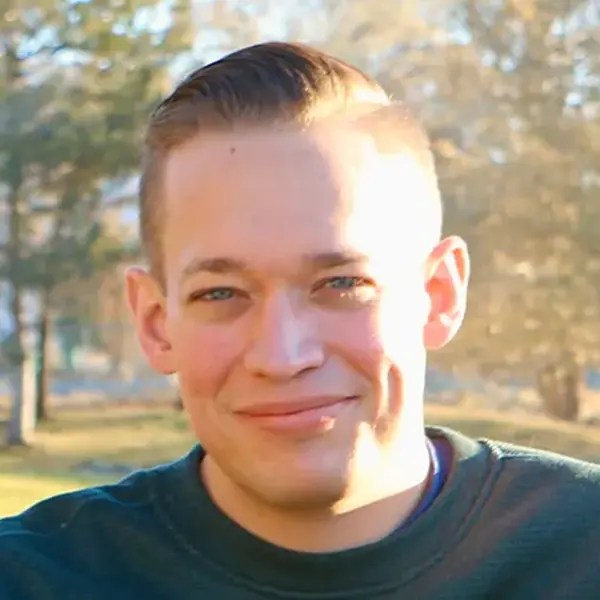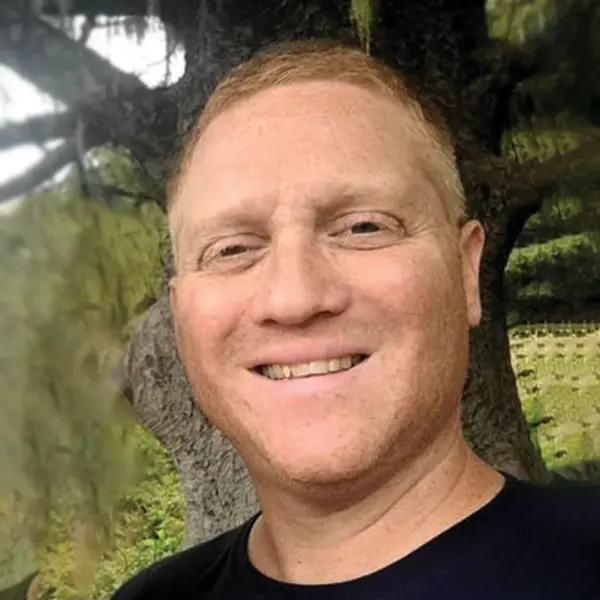 Request a free quote for your bathroom remodeling in Saddlehorn today! Or talk directly to Travis and Jay, the owners of High Sierra Remodeling & Construction, at (775) 242-6405 to kick-start your project.