Shopping for new bathroom stuff isn't always a seamless experience. When you're overwhelmed by the choices and don't understand the differences between this and that, it can result in a frustrating experience. Bathroom sinks are a great example.
Whether your preference leans towards a contemporary, minimalist look or a traditional, vintage-inspired style, our aim is to assist you in discovering the perfect bathroom sink that seamlessly integrates with your overall design vision.
So, let's delve into the endless possibilities that bathroom sinks options offer, allowing you to create a space that not only meets your functional needs but also reflects your personal taste and enhances the beauty of your home.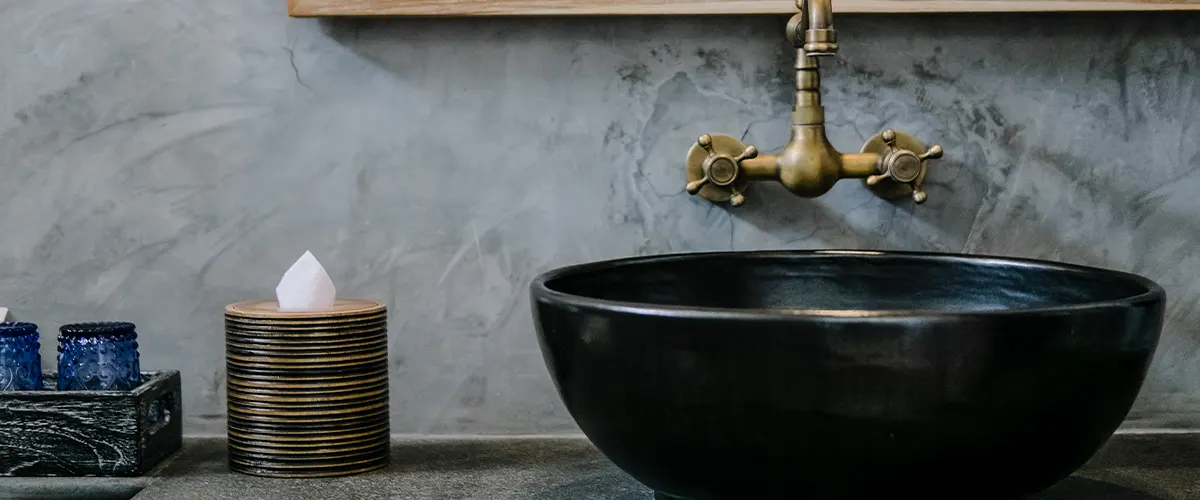 If you're looking for a new bathroom sink and find the choices overwhelming, here are the six most popular bathroom sink types and how to select the ones that fit your bathroom aesthetic.
You will love the versatility and design freedom that drop-in sinks have to offer. It's a stress-free way to remodel your bathroom without investing too much money on a new sink.
These sinks have a visible rim that sits on top of your countertop, creating a distinctive look. They come in various styles and materials, allowing you to choose the perfect one for your bathroom.
Advantages: Drop-in sinks are highly advantageous due to their easy installation process. They are compatible with a variety of countertop materials and come in a range of sizes and shapes. You won't break the bank when buying a drop-in sink, as opposed to other types of sinks, making them an ideal choice for those looking for an affordable solution.
Drawbacks: It's important to note that the rim of drop-in sinks can collect dirt and grime over time, requiring a bit more effort to keep them clean. Also, the presence of the rim may slightly limit the available counter space.
Ideal Installation Scenarios: Drop-in sinks work well in bathrooms with existing countertops or when you're looking for a cost-effective option. They can be easily retrofitted into your current bathroom layout without significant modifications.
Materials: You have a plethora of options to choose from when it comes to materials for drop-in sinks. Materials such as porcelain, ceramic, stainless steel, and cast iron are available, allowing you to select one that matches your preferences and complements your bathroom's design.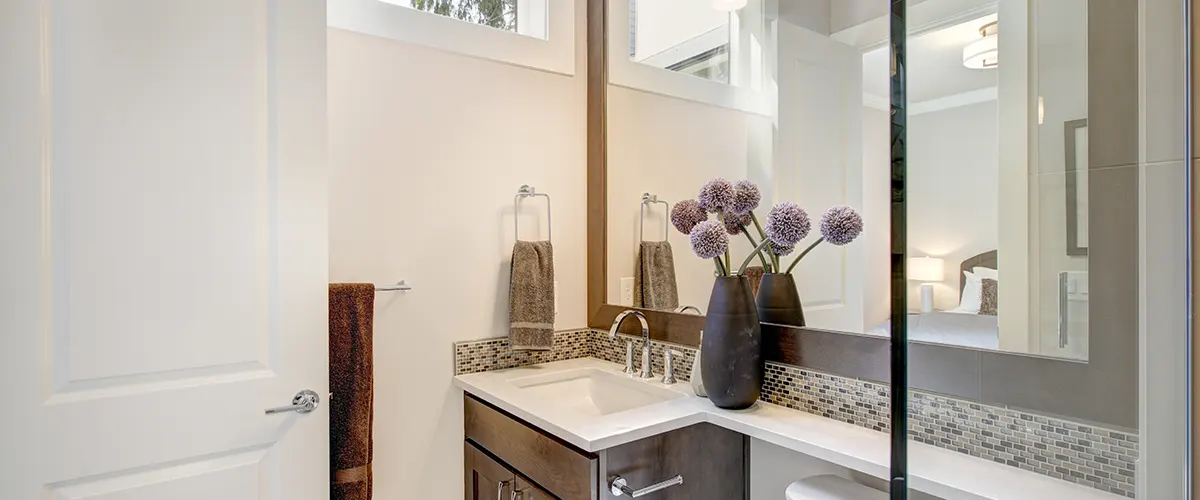 If you prefer a seamless and sleek look for your bathroom, undermount sinks might be the perfect choice for you. Unlike drop-in sinks, undermount sinks are installed beneath the countertop, offering a clean and minimalist aesthetic.
Advantages: Undermount sinks offer several benefits, including their effortless cleaning nature. With no visible rim, the integrated sink becomes easy to clean, and you won't have to worry about dirt and grime accumulating in hard-to-reach places. These sinks also provide sufficient counter space and allow you to wipe water and debris directly into the sink without any hindrances. This results in a sleek and contemporary look that enhances the overall appearance of your bathroom.
Drawbacks: Trying to install an undermount sink all by yourself will be a headache, so it's best to consult with expert installers on this one. They need to be securely attached beneath the countertop, which may involve additional costs and modifications to the countertop itself. Additionally, undermount sinks may have limitations in terms of available styles and materials compared to other sink types.
Ideal Installation Scenarios: If you aim for a clean and contemporary look in your bathroom, undermount sinks are an excellent choice. They work seamlessly with solid surface countertops like granite, quartz, or marble, enhancing the visual appeal of the natural stone or other materials you select.
Materials: Undermount sinks are usually made from materials like porcelain, ceramic, stainless steel, and composite materials. It's easy to find an option that fits your ideal bathroom vision. Rest assured that these undermount sinks are designed to withstand the test of time while adding a touch of style to your space.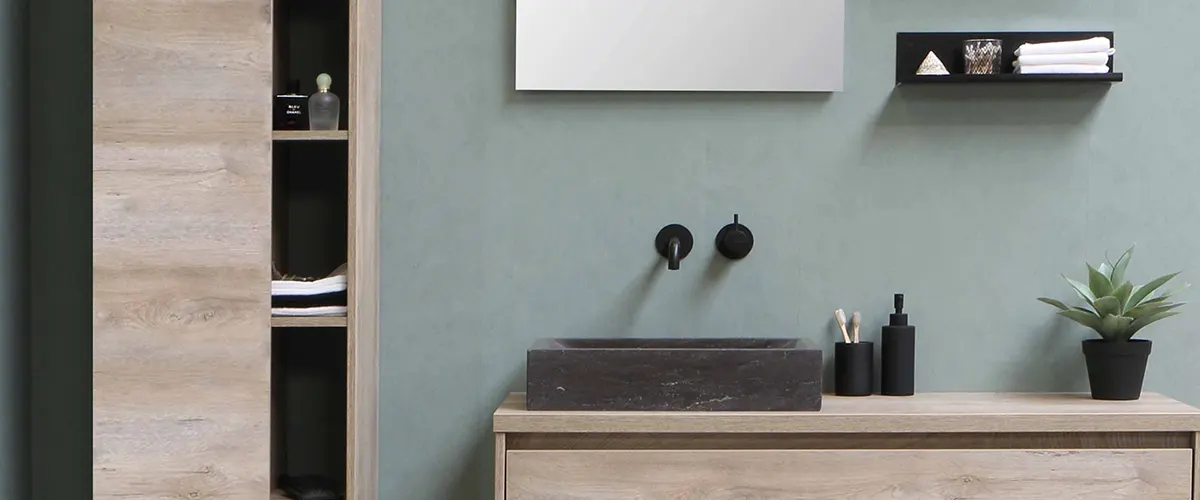 For a timeless and elegant look, pedestal sinks are a classic bathroom sink choice. These sinks consist of a basin that sits atop a freestanding pedestal, creating a sophisticated and vintage-inspired appearance.
Advantages: Pedestal sinks exude a sense of charm and grace that can elevate the overall aesthetic of your bathroom. They are ideal for smaller spaces, as the open design creates an illusion of more room. Pedestal sinks also offer versatility in terms of style, with various pedestal designs available to complement different bathroom themes.
Drawbacks: One limitation of pedestal sinks is the lack of storage space. As theA pedestal sink is typically used for decorative purposes and does not provide any storage space for bathroom essentials. However, it is important to consider the exposed plumbing beneath the sink when planning for a clean and cohesive look. Pedestal sinks are commonly installed for their aesthetic appeal and are well-suited for bathrooms with a classic or vintage design theme. They work particularly well in powder rooms or guest bathrooms where storage needs may be minimal.
Materials: Pedestal sinks are commonly made from porcelain or ceramic, which offer a timeless and durable finish. You can find a range of pedestal designs, from intricate and ornate to sleek and minimalist, allowing you to select the style that best suits your bathroom's ambiance.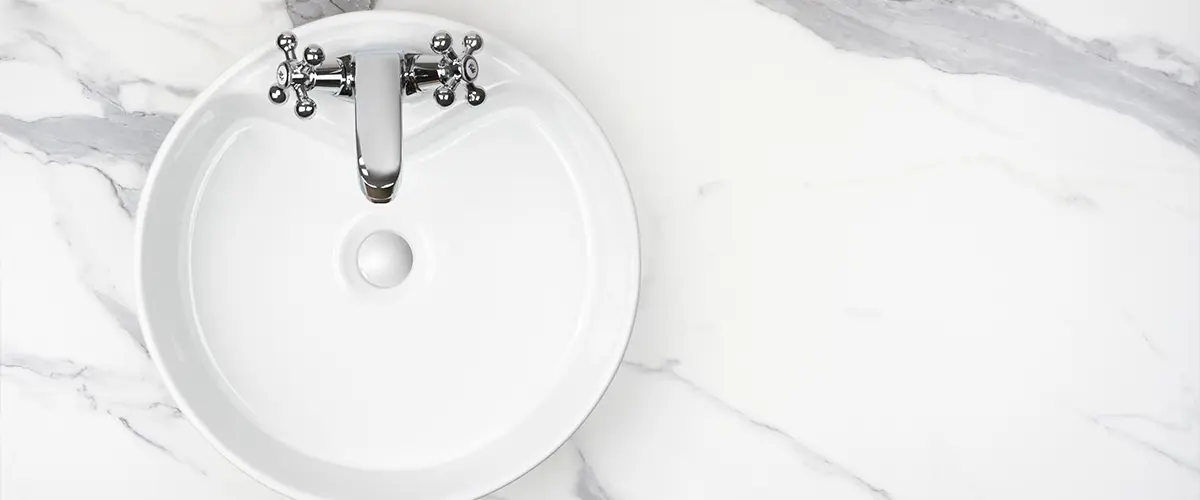 If you're aiming for a sleek and modern bathroom design, wall-mount sinks are an excellent choice. These sinks are mounted directly onto the wall, creating a clean and minimalist look.
Advantages: If you're looking to save some space in your bathroom, a wall-mounted sink is a great option! It gives your bathroom a nice open feeling without taking up too much room. Plus, you can adjust the height to fit your needs and it's super easy to clean since there's nothing obstructing the sink.
Drawbacks: If you're considering bathroom sinks, drop-in sinks could be an attractive and adaptable option. With a noticeable rim that sits atop your countertop, they provide a unique look. They come in different styles and materials, enabling you to select the ideal one for your bathroom.
Ideal Installation Scenarios: Wall-mounted sinks work exceptionally well in small bathrooms or powder rooms with limited space. They can create an illusion of more space and contribute to a clean and minimalist aesthetic. Additionally, they are a popular choice for modern and contemporary bathroom designs. That said, you can really upgrade the space's visuals with a porcelain bathroom sink.
Materials: Wall-mounted sinks are available in various materials, including porcelain, ceramic, stainless steel, and glass. These materials offer durability and come in different styles, allowing you to find the perfect match for your bathroom decor.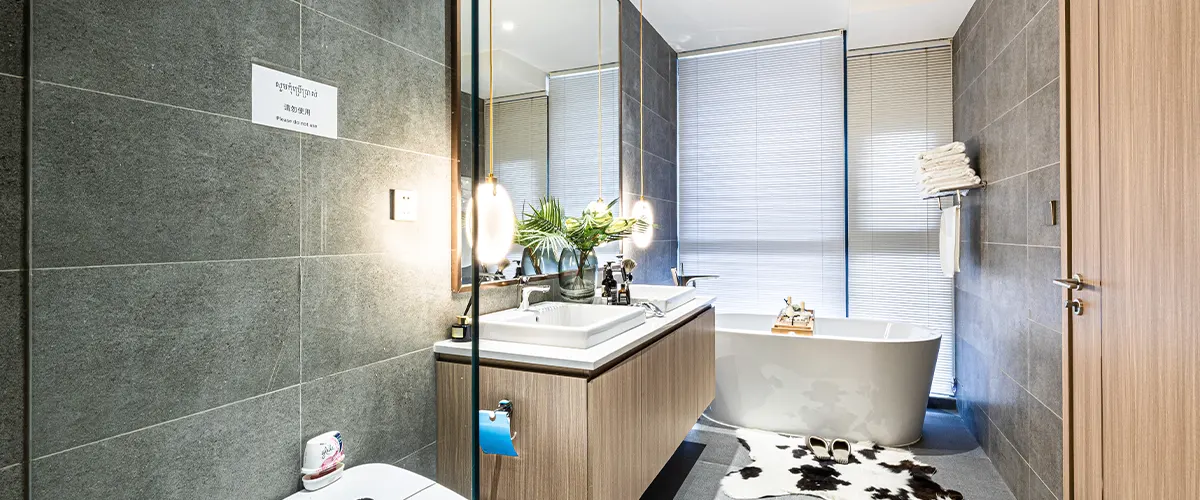 If you're looking to add a touch of luxury and sophistication to your bathroom, vessel sinks are an excellent choice. These sinks sit on top of the countertop, resembling a decorative bowl or basin, and create a stunning visual focal point.
Advantages: One of the main advantages of vessel sinks is their striking appearance. They become a centerpiece in your bathroom, instantly catching the eye and making a bold design statement. Vessel sinks also offer flexibility in terms of countertop options, as they can be installed on various materials, including granite, marble, and wood. They are available in different shapes and sizes, allowing you to choose a vessel sink that perfectly complements your bathroom decor.
Drawbacks: It's important to consider the height of vessel sinks and how it may affect user comfort. Depending on the sink's height and the height of the countertop, adjustments may need to be made to ensure a comfortable and ergonomic experience. Additionally, the exposed nature of vessel sinks can make them more prone to water splashes and spills, requiring regular cleaning to maintain their appearance.
Ideal Installation Scenarios: Vessel sinks are particularly suited for bathrooms where aesthetics and visual impact are a priority. They work well with custom or floating vanities, adding a touch of luxury to contemporary and modern bathroom designs. Vessel sinks also fit beautifully in bathrooms with a spa-like ambiance or those inspired by natural elements.
Materials: Vessel sinks are available in various materials to suit different preferences and design themes. Glass vessel sinks offer a sleek and translucent look, while porcelain and ceramic provide durability and a timeless appeal. Stone vessel sinks, such as marble or granite, add a touch of natural beauty and sophistication to your bathroom.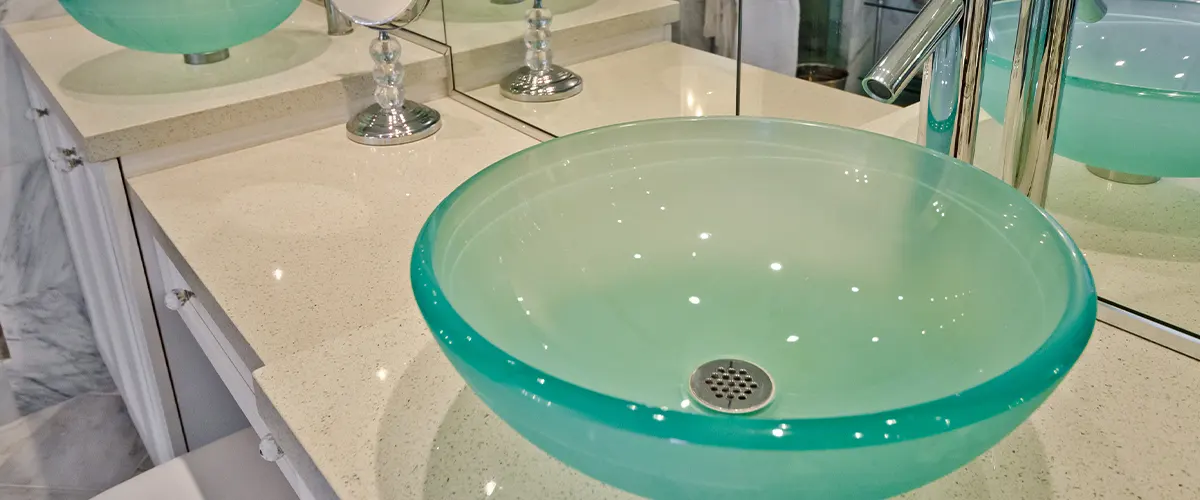 If you're looking for a stylish and functional option for your bathroom, console sinks are worth considering. These sinks feature a countertop-like structure supported by legs or brackets, creating a sleek and elegant design.
Advantages: Console sinks offer generous countertop space, providing room for your bathroom essentials like toothbrush holders, soap dispensers, and decorative items. They are versatile and work well in both small and large bathrooms, adding a touch of sophistication to your space. Console sinks are available in different materials, from sleek and modern options like tempered glass and stainless steel to more traditional choices like marble or ceramic.
Drawbacks: One consideration with console sinks is the lack of storage space. As the legs or brackets support the sink and countertop, there are no cabinets or drawers for storing bathroom supplies. Additional storage solutions (such as wall-mounted cabinets or shelving) may be necessary to compensate for this.
Ideal Installation Scenarios: If you're searching for a bathroom sink that's both functional and fancy, without taking up too much space on your countertop, a console sink might be just what you need! These sinks are super versatile and can work wonders with both modern and traditional bathroom designs. Plus, they add a stylish touch that'll make your bathroom look even better.
Materials: Console sinks are available in various materials to suit different design preferences. You can find stone sinks, wood sinks, and even glass sinks in this format. These material choices allow you to customize the look of your console sink to match your bathroom style and create a cohesive design.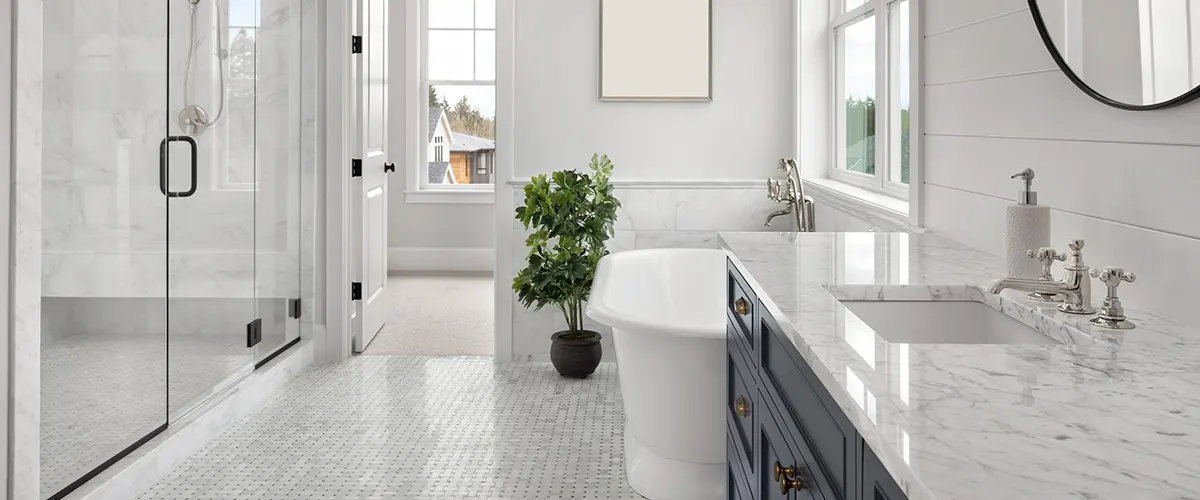 Elevate Your Bathroom with the Perfect Sink
Ready to transform your bathroom? Contact High Sierra Construction today for your remodeling needs. Let us help you bring your vision to life with high-quality craftsmanship and exceptional service. Don't wait any longer – create the bathroom of your dreams now.
Request a free quote now or call us directly at (775) 242-6405 to discuss about getting the best bathroom sink option out there!