The cost of kitchen cabinets can vary widely, driven by factors such as material, design, and customization level. For homeowners planning a kitchen remodel in 2023, it's essential to understand these costs upfront. On average, new kitchen cabinets can range anywhere from $2,000 to $20,000, with most homeowners spending around $6,000 to $9,000 for a full kitchen cabinet replacement.
This range accounts for varying levels of quality and complexity in design, offering a comprehensive idea of what you can expect to invest in your kitchen cabinets. Let's dig into the matter and discover more about the cost of kitchen cabinets in Reno, NV.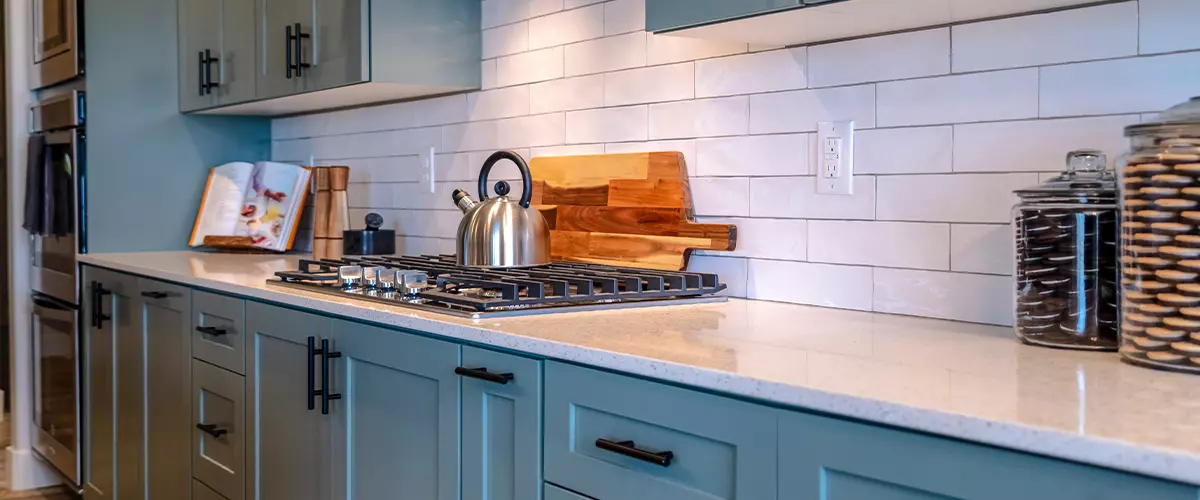 Exploring Material Options
When considering the cost of kitchen cabinets, one cannot neglect the significant role of the material. The material you choose not only defines the look and feel of your kitchen but also influences durability and, ultimately, the cost.
To start with, particleboard is an affordable option, made from compressed wood chips and resin. While cost-effective, it may not offer the same long-term durability as other materials.
Another popular choice is plywood, a resistant and sturdy material that can stand up to heavy use. Plywood cabinets are moderately priced but offer good value for your money, considering their durability.
Medium-density fiberboard (MDF) offers a smooth surface and excellent resistance to warping. It's a fine choice for painted cabinets and is generally more affordable than solid wood.
Solid wood cabinets are often the most expensive option but for a reason. They offer unmatched durability and a premium look that can significantly enhance your kitchen's aesthetic appeal.
Lastly, stainless steel cabinets are a contemporary option with high durability and a sleek, modern look. They are typically higher in cost but can be an excellent choice for those seeking a minimalist or industrial kitchen design.
Choosing the right material is a critical part of determining the overall cost of kitchen cabinets. Each material carries its own set of advantages and price points, allowing homeowners to balance their budget constraints with their design preferences and durability needs.
Stock vs. Custom Kitchen Cabinets: A Comparative View
When planning a kitchen remodel, another essential factor to consider is whether to opt for stock or custom kitchen cabinets. This choice, much like the material selection, can significantly impact both the cost and the final aesthetic result of your kitchen. Here's a comparison of stock and custom cabinets to help you make an informed decision.
Stock kitchen cabinets are pre-manufactured and come in a variety of standard sizes and designs. They are an affordable option and can be readily available at home improvement stores. However, they offer limited choices in terms of style, color, and size, and may not perfectly fit all kitchen layouts. Particleboard, MDF, and sometimes plywood are common materials used in stock cabinets.
On the other end of the spectrum, custom kitchen cabinets provide an opportunity for homeowners to design their kitchen with utmost flexibility. You can choose any style, color, size, and material (including high-end options like solid wood or stainless steel) to align with your kitchen design. While offering superior quality and fit, custom cabinets come with a much higher price tag and longer lead time due to their tailored nature.
| Aspect | Stock Kitchen Cabinets | Custom Kitchen Cabinets |
| --- | --- | --- |
| Cost | More affordable, ideal for tight budgets | More expensive, reflecting the level of customization |
| Availability | Readily available at stores | Require lead time to build |
| Material Options | Mostly particleboard, MDF, and plywood | Any material, including solid wood and stainless steel |
| Design Flexibility | Limited to standard sizes and styles | Virtually unlimited; can be tailored to exact specifications |
| Fit | May not fit all kitchen layouts perfectly | Perfect fit, as they are made to exact measurements |
Whether you decide to go for stock or custom kitchen cabinets depends on your budget, your design preferences, and the specific layout of your kitchen. By comparing the two options, you can strike a balance between cost and customization that best suits your needs.
Analyzing Kitchen Cabinet Costs: A Closer Look at Different Cabinet Types
Now that we have discussed the general cost ranges of kitchen cabinets and the impact of material and customization level, let's delve deeper into specific cabinet types and their associated costs. We'll be looking at semi-custom cabinets, custom cabinets, cabinet boxes, framed cabinets, and frameless cabinets.
Semi-custom cabinets strike a balance between the affordability of stock cabinets and the customization possibilities of custom cabinets. They offer a wider variety of styles, materials, and finishes than stock cabinets while being more affordable than fully custom options. Semi-custom cabinets typically range from $150 to $650 per linear foot, depending on the quality and customization level.
As we've covered earlier, custom cabinets offer the highest level of customization, allowing you to tailor every aspect, from material and size to design and finish, to your liking. This tailored approach, however, comes with a higher price tag, with custom cabinets typically costing between $500 and $1,200 per linear foot.
Cabinet boxes, also known as cabinet carcasses, are the backbone of your kitchen cabinetry, holding the doors, drawers, and shelves. These can be made from a variety of materials, with cost varying accordingly. On average, cabinet boxes range from $100 to $500 per linear foot.
Framed vs. Frameless Cabinets
There are two main styles of kitchen cabinets: framed and frameless. Framed cabinets have a box-like frame around the front edge of the cabinet box, providing structure to attach doors and drawers.
They tend to be more sturdy and traditional-looking, with prices ranging from $150 to $600 per linear foot.
In contrast, frameless cabinets, also known as European-style cabinets, eliminate the face frame, offering a more modern look and maximized storage space. Frameless cabinets cost anywhere between $175 and $725 per linear foot, depending on the material and quality.
Here is a handy table summarizing the costs for different types of kitchen cabinets:
| Cabinet Type | Cost Range Per Linear Foot |
| --- | --- |
| Semi-Custom Cabinets | $150 - $650 |
| Custom Cabinets | $500 - $1,200 |
| Cabinet Boxes | $100 - $500 |
| Framed Cabinets | $150 - $600 |
| Frameless Cabinets | $175 - $725 |
Remember, the cost of your kitchen cabinets will also depend on other factors, such as installation, hardware, and finish. Always consider these aspects when planning your kitchen remodel budget.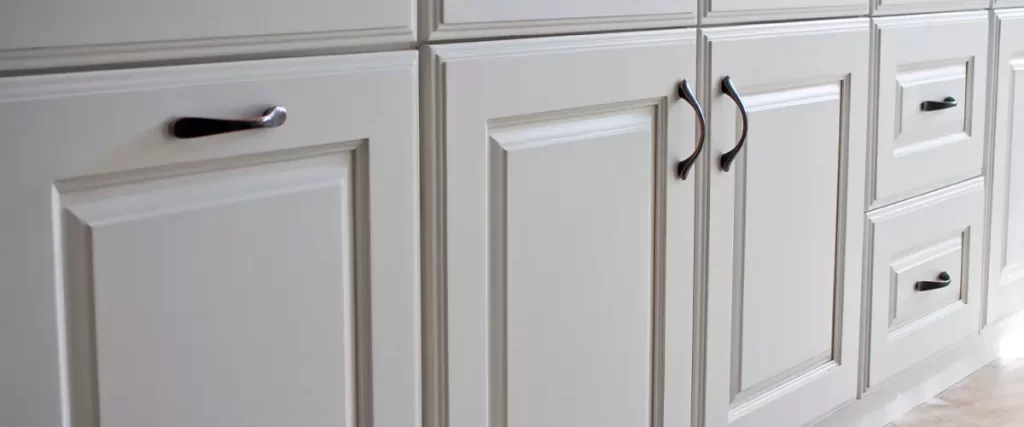 Impact of Color and Finish on Kitchen Cabinet Cost
The color and finish that you choose for your kitchen cabinets can also influence the total cost. Lighter colors like white and gray are often popular choices due to their timeless appeal and ability to brighten up the kitchen space.
However, these finishes can show dirt more easily and may require more frequent cleaning or refinishing over time.
In contrast, darker colors like black or navy blue can add a dramatic and luxurious touch to your kitchen. These colors can hide dirt and stains more effectively, but they may also make a small kitchen feel more cramped. Lastly, neutral wood finishes are versatile and can fit in different kitchen styles but might cost more depending on the type of wood used.
Let's look at a general pricing table for different kitchen cabinet finishes:
| Finish | Average Cost per Linear Foot |
| --- | --- |
| Paint (white, gray) | $75 - $200 |
| Stain (natural, cherry, walnut) | $100 - $250 |
| Laminate | $60 - $200 |
| Thermofoil | $50 - $100 |
Remember, these are average costs and can vary based on additional customization options, region, and the complexity of installation.
Always consult with a professional kitchen remodeler to receive accurate estimates based on your specific project requirements.
The finish of your kitchen cabinets plays a crucial role not only in determining the overall cost but also in setting the tone for your kitchen's aesthetic.
Whether you lean towards a light, airy design, a rich, dark theme, or a traditional, woodsy look, your choice of color and finish can bring your design vision to life while staying within your budget. It's all about finding the right balance between cost, functionality, and style.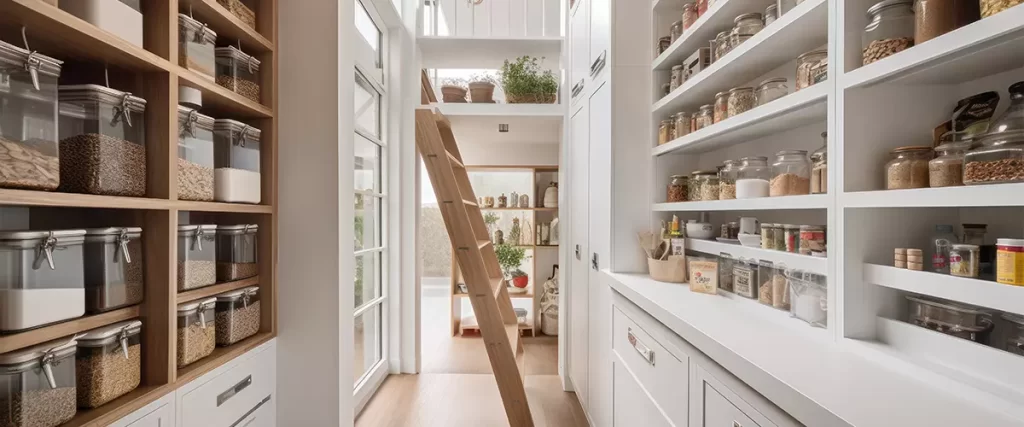 Labor Costs in Kitchen Cabinet Installation
A significant part of your budget for kitchen cabinets will be allocated to labor costs. The craftsmanship involved in installing kitchen cabinets often requires professional assistance to ensure quality and durability.
Several factors influence these costs, including the scope of work, the complexity of the project, and the region you live in. Let's break down some of the key aspects that determine labor costs:
Installation Complexity: Custom cabinets, with their intricate designs and unique fittings, often require a higher level of expertise to install. This added complexity can increase labor costs.
Project Scope: The size of your kitchen and the number of cabinets being installed will also impact the cost. A larger project with more cabinets will typically require more labor hours, increasing the overall cost.
Geographical Location: Labor costs can vary widely depending on where you live. Metropolitan areas, for example, tend to have higher labor costs compared to rural areas.
Professional Expertise: The experience and reputation of the professionals you hire will also influence the cost. Skilled professionals can command higher rates due to their expertise and the quality of work they deliver.
Unforeseen Issues: During the installation process, unexpected issues such as rewiring or rerouting plumbing can emerge, adding to the labor costs.
It's crucial to note that while labor costs can add to your overall investment, professional installation ensures your cabinets are well-fitted and durable, providing a solid return on your investment in the long term. Always consult with a reputable kitchen remodeler to understand the potential labor costs associated with your cabinet installation.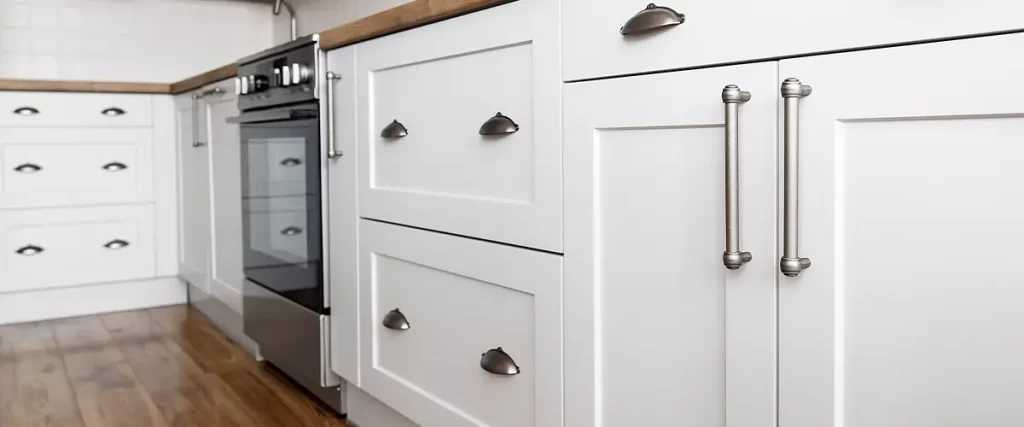 Replacing vs. Refacing Kitchen Cabinets: A Cost Perspective
Another crucial decision in planning a kitchen remodel is whether to replace or reface your kitchen cabinets. This choice can have a significant impact on your budget and the overall aesthetic of your kitchen. Here's a closer look at the costs involved in each option, along with the pros and cons.
Replacing Kitchen Cabinets
Replacing kitchen cabinets involves removing the old cabinets and installing new ones. This option is more expensive but also allows for complete customization in terms of layout, design, and material. The average cost of replacing kitchen cabinets can range between $5,000 to $15,000 or more, depending on the size of your kitchen, the material, and the complexity of the layout.
Pros and Cons
Replacing Kitchen Cabinets
Refacing Kitchen Cabinets
Pros

Complete customization
New layout possibilities
Potential for increased home value

Lower cost
Ideal for a quick update
Less disruptive to daily routine

Cons

Higher cost
More time-consuming
More disruptive to daily routine

Existing layout remains the same
Potential limitations on material and color choices
Remember, your choice between replacing and refacing depends on your particular needs, budget, and the current condition of your kitchen cabinets. Always consult with a professional kitchen remodeler to understand the potential costs and benefits associated with each option.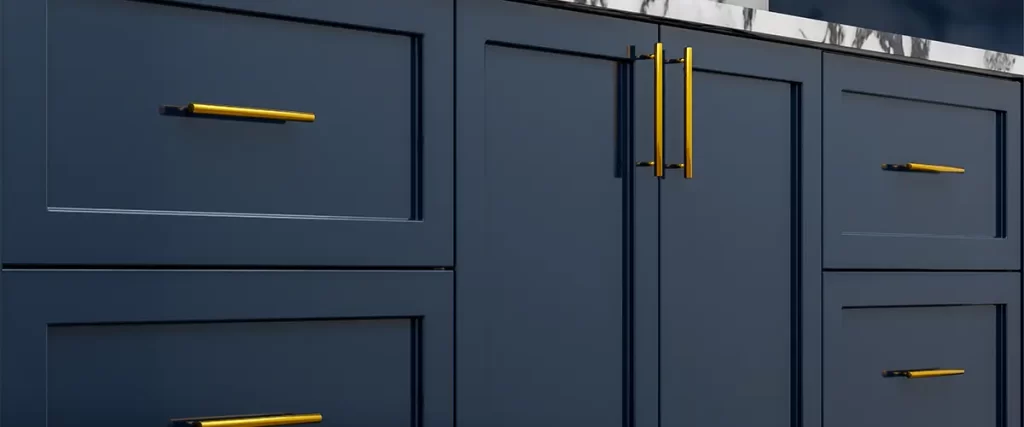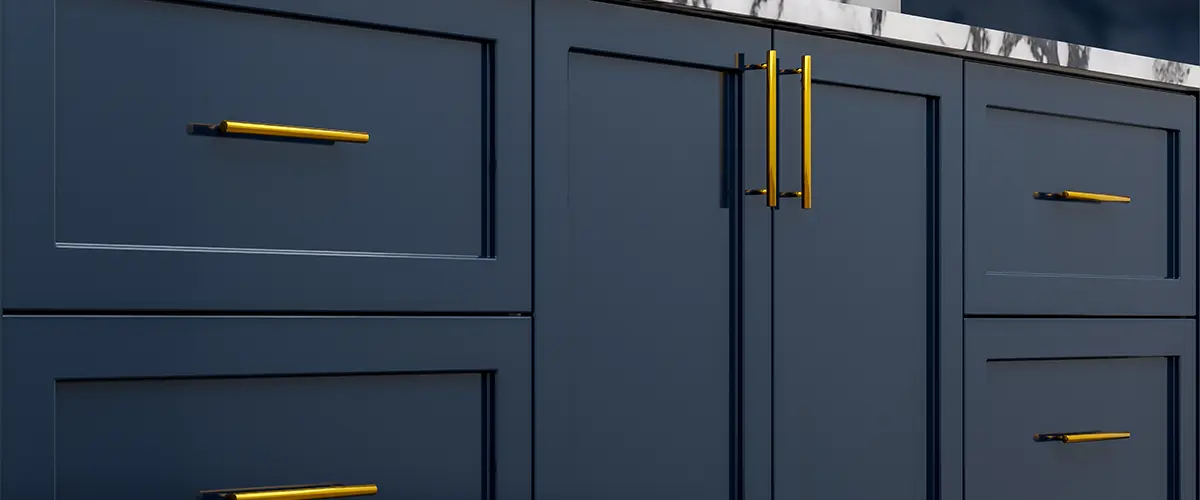 Top 10 Paints and Stains for Revamping Kitchen Cabinets
If you're planning to give your kitchen cabinets a fresh new look, choosing the right paint or stain is key. The following are the top 10 paints and stains that can help transform your kitchen cabinets into a piece of art:
Remember, the key to a successful kitchen cabinet transformation is preparation. Always clean and sand your cabinets before applying your chosen paint or stain. Furthermore, always allow adequate drying time between coats to achieve the best results.
Base Cabinet Sizes and Costs
Base cabinets are the workhorse of kitchen design, serving as the foundation for counters and appliances. They come in a variety of standard widths and depths.
| Width (inches) | Depth (inches) | Average Cost (USD) |
| --- | --- | --- |
| 12-24 | 24 | $150-$500 |
| 30-36 | 24 | $200-$600 |
| 36-48 | 24 | $300-$800 |
Wall Cabinet Sizes and Costs
Wall cabinets hang above the countertops, offering additional storage and display space. They vary in width, height, and depth:
| Width (inches) | Height (inches) | Depth (inches) | Average Cost (USD) |
| --- | --- | --- | --- |
| 12-24 | 12-42 | 12-24 | $100-$400 |
| 30-36 | 12-42 | 12-24 | $200-$600 |
| 36-48 | 12-42 | 12-24 | $300-$800 |
Tall Cabinet Sizes and Costs
Tall cabinets, often used for pantries or broom closets, stand from floor to ceiling and provide significant storage space:
| Width (inches) | Height (inches) | Depth (inches) | Average Cost (USD) |
| --- | --- | --- | --- |
| 12-24 | 84-96 | 24 | $500-$1,500 |
| 30-36 | 84-96 | 24 | $700-$2,000 |
As always, these costs can vary significantly based on the chosen finish, material, installation complexity, and geographical location. It's advisable to work with a professional kitchen remodeler to get an accurate quote based on your specific project requirements.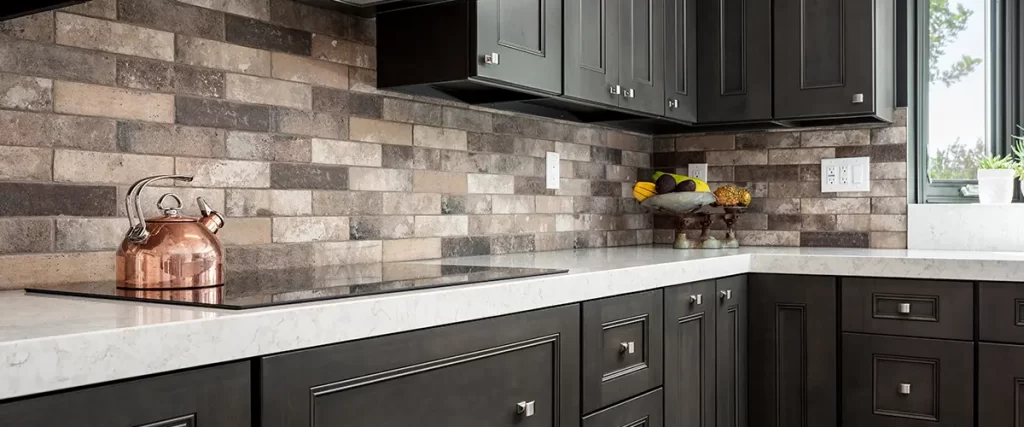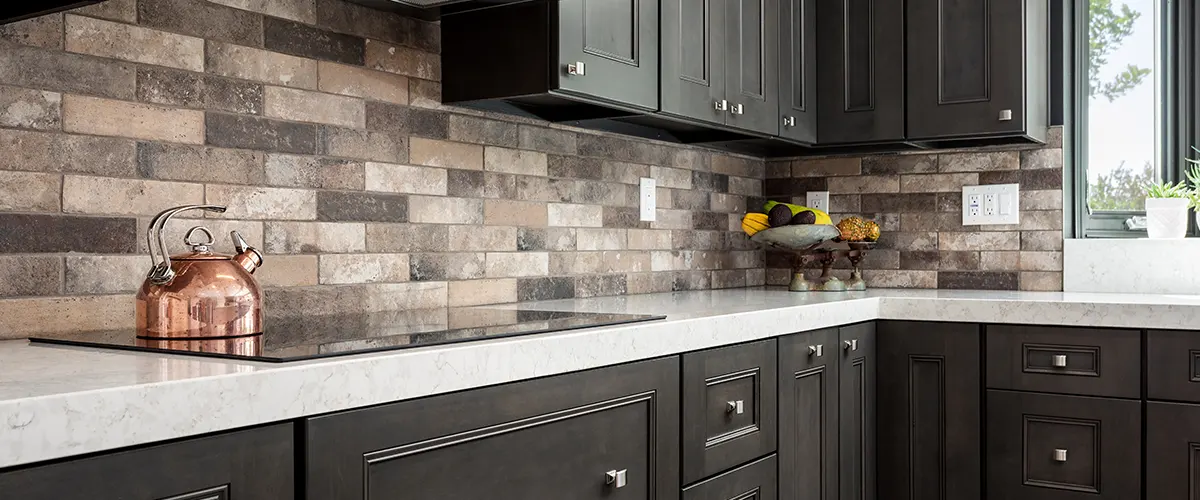 Cost Of Kitchen Cabinets FAQs
Bring Your Dream Kitchen To Life With A Professional Remodel
At High Sierra Remodeling & Construction, we appreciate the significance of quality kitchen cabinets in the overall aesthetic and functionality of your kitchen. As experts in kitchen remodeling in Reno, NV, we're committed to bringing your dream kitchen to life with your choice of cabinets.
Whether you're in need of a full kitchen remodel or simply wish to refresh your cabinetry, our team of professionals is equipped to handle your specific needs. Contact us at (775) 242-6405 to discuss your project and explore the array of cabinet choices available to you. We're here to guide you every step of the way to ensure your kitchen transformation is a resounding success.